Why a new simulator is key to Alpine's F1 ambitions
The Alpine Formula 1 team's ambitions have been made clear in recent weeks by the management reshuffle that saw the departures of Otmar Szafnauer and Enstone veteran Alan Permane.
Alpine owners Renault want to see the team achieve success sooner rather later, despite the stated 100-race plan that Szafnauer and his colleagues had put in place.
It's no secret that Enstone fell back during the Lotus/Genii period, and even in the early days of Renault's second spell of ownership there was not enough investment.
Over his 18-month spell at Alpine Szafnauer led the push for change in consultation with the key technical players, identifying weaknesses and the key areas of focus, and setting in motion a plan to update the team's infrastructure. It didn't hurt that he had recently gone through a similar process as Racing Point transitioned into Aston Martin, so he had a good insight into what can be done if the budget is available.
On his watch a list of major infrastructure improvements, topped by a new simulator, was approved as the next stage of the rebuilding process.
The anomaly associated with the American's sudden departure from Alpine is that such projects inevitably take time to be completed and to pay dividends, so the results won't be seen until two or three years down the line.
To be fair, his predecessors long before Szafnauer's arrival at the team had been working hard to close the gap to the established frontrunners.
"We've worked exhaustively," says Alpine technical director Matt Harman. "It's one of the reasons why I don't go to all the races, as we have an awful lot of work to do back in the factory. In terms of designing the cars, and the quality of our race car and what we do, we're very proud of in the way we've moved that forward.
"But equally the way we operate the team, the business systems within the team, the efficiencies that we've managed to drive, some of the quality initiatives that we're still working on to make sure that's best in class, it all takes time to put in place and to get the organisation, and also get people used to operating in a different manner, and having that culture of continuous improvement.
"That has been a mission of mine for the last five years. I'd like to think you'll see sparkles of that in every single area, and be it the way we do our pitstops, or the way we do our base engineering."
Harman cites one example of an innovation which is now paying off.
"We have a digital mock up or DMU room, where we design the car," he says. "Fundamentally, it's a room with a big CAD screen. We don't have a plastic mock-up of the car anymore, for when we look and see whether it's any good or not.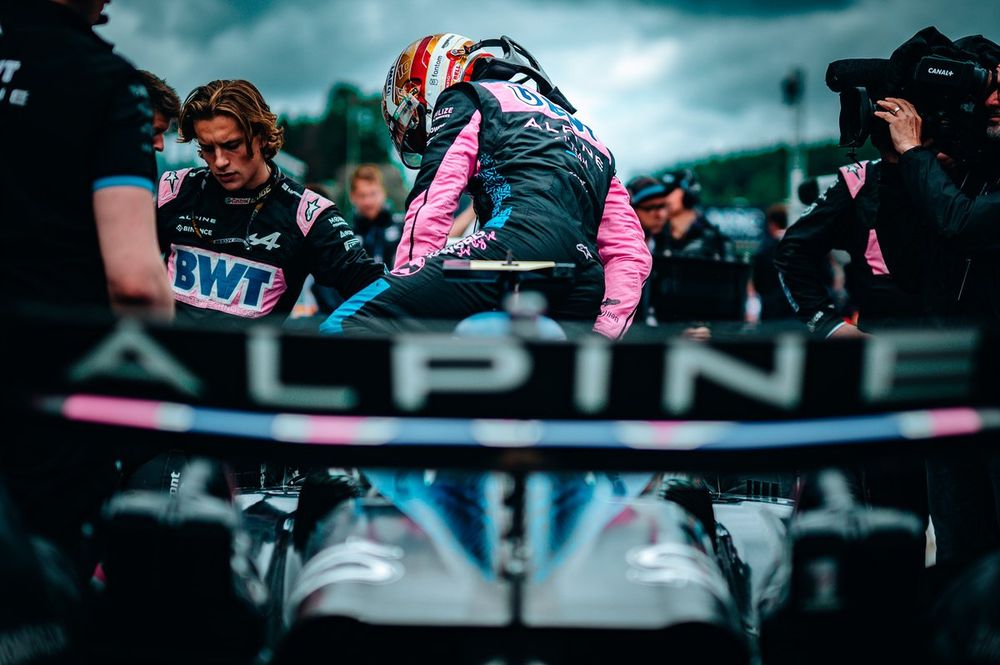 Pierre Gasly, Alpine A523
Photo by: Alpine
"It's all done digitally. We design the car together in that room. It's a theatre where we've got the car on full show. We now use it like we've had it for years, but when we first talked about it, people couldn't understand why it would be better than having a physical thing.
"It is much better, because if you make your decisions in there, and you decide what you're going to do with the race car before you've made it, under cost cap, you don't waste any money.
"So it's one of those essential tools. It's probably saved us an awful lot of time, effort, money performance, just having that. It's those little nuances and little things that help us move forward towards being a top team in F1."
The team is now working through the shopping list of essential infrastructure updates that it hopes will, like the DMU room, make a big difference.
PLUS: Why Ryan Reynolds and Alpine show that F1's boom will outlast Drive to Survive
Everything has to be done within the capital expenditure limits specified by the cost cap. Like several rivals, notably Williams, the team is hoping that some additional spending leeway will be allowed which will help it to invest in a few extra projects.
"We've highlighted some key aspects that we need to improve as a team," says Harman. "I think it's quite good to do that, because it gives everybody focus. Obviously, we have a focus on the races every other week, but it's also good to have a focus on technical growth. My focus over the last three years has been improving the organisation, as well as the car."
Top of the "to-do" list, and already under construction in its own new building on the Enstone site, is a new simulator. Like so much else in F1 sim technology moves on quickly, and Alpine has slipped behind rivals.
"We've highlighted a particular type and scope and resolution of simulator that we'd like," says Harman. "The simulator we currently have is quite an aged model. It's very capable, and the people that use it do a great job of extracting the best they can from it, but it's quite some years behind in terms of its resolution and travel and the ability for it to give the driver that confidence in all aspects.
"So we've decided to invest quite heavily. We very much want it to be deployed and in place ready for fundamentally informing the design of the of the 2026 car. It will be in addition to our current simulator, so we will maintain the current unit so that we can correlate.
"We will keep that probably indefinitely, because we use it for some of our other programmes, like the Driver Academy. It's also a very good back-up to have in case you have any issues, you've always got something there that you can jump into. But our main focus on the F1 team will be the new unit, and getting the most out of it."
Esteban Ocon, Alpine
Photo by: Erik Junius
Harman stresses that the new sim will represent an upgrade in all areas and provide clear benefits to the team.
"We will have a lot better resolution in terms of travel and bandwidth of the unit itself," he says. "We will have an updated mechanical system as well, which allow us to have a more relevant car infrastructure for the driver that he's sat in.
"There's more travel initially, and it's also a better optical system. It goes up very high – the height of the building keeps growing every week I look at the project! It's all part of that immersion, the driver needs that full immersion in there.
"We will get a better feel for the driver, there'll be more travel in all directions, it will be high resolution travel, and we will be able to improve things like ride and understanding of ride."
Harman admits initially the team will have to catch up with what it is actually capable of - in other words, it will be future-proofed.
"Some of the functionality that we've bought as part of that particular system, we couldn't actually utilise at the moment, we need to develop techniques to utilise it," he says. "That's all about that growth. I think it would be a shame on the day that you commission your simulator to already be wishing for the next one.
"It's really inspired the engineers, especially the team leader of that area who is running that project. It's great for him to be actually on the next simulator and be inspired by the fact that we are going to invest in his team with some very, very capable hardware."
Simulators are often only thought as driver training tools, but there is so much more that they can do if you have the cutting-edge technology.
"I don't think many people realise that it's one of our essential tools for driving directions of cars," says Harman. "We can do an awful lot in the simulation domain. But sometimes you do need that driver-in-loop, you do need his feedback.
"Also checking some of our new capabilities is an important part. We are developing very high-tech tyre modelling techniques, improving our tyre modelling capability and our understanding of our tyres in conjunction with the overall vehicle performance. Also, other aspects on ride and development ride systems and development and power unit characteristics.
"We need that simulator to give us the ability to develop those away from the circuit, and then use the circuit to every now and again give us that correlation point.
"As testing becomes more and more constrained, and testing new hardware at events is becoming more and more risky in terms of containing your weekend, we'd much rather do as much as we can away from the event."
Another vital tool that is being upgraded at Enstone is dynamic lap simulation.
"We've got a very good suite of simulation tools," says Harman. "But we want to have something that is less linear, and enables us to do more power unit in loop, more ride in the loop, again so that we can actually be more prepared when we go to that race weekend.
"The great thing about that is that's going to be a tool that is used both at Viry and Enstone, we're not going to have two different tools.
"Everything we're doing at the moment is about bringing the two teams together so that we're using the same tools, talking the same language with the same data, using their input from the powertrain side and our input on the chassis."
Simulation aside, a key new piece of kit needed is a transmission dyno capable of dealing with the demands associated with the 2026 rules package. All teams that make their own transmissions will have to be similarly equipped.
"We've got some technology coming for the new regulations," says Harman. "We're a works team, so we've got to do everything from scratch, including the transmission side and all the hydraulics and everything else, so we are looking at investing quite heavily in a new test system for that.
"We already have one that we currently use, but it doesn't cover the [2026] duty. So we need a brand-new system. Basically, it's two absorbers and one input motor that pretends to be the engine.
"That puts in the fundamental lap duty torque, but also puts in some of the vibrations that you need, so it has a high frequency capability to it. That gets us quite close to the power unit."
McLaren has just started work in its new wind tunnel and Aston Martin has one on the way, but for the foreseeable future Alpine is content with investing in regular updates to its existing wind tunnel.
"What you've always got to look at is the difference between what you've got and what you could have, whether it really is that game changing for you," says Harman of the option of a new wind tunnel.
"Changing a wind tunnel is an intervention in the system that will cause you some loss of performance. We monitor that and talk about that regularly. That option is open to us should we decide to take it. But at the moment, we are we are still comfortable where we are.
"We always update the tunnel in the shutdown, because we just don't want to have that intervention during the programme. But we just haven't renewed the main infrastructure."
How you use the data generated is as important as the wind tunnel itself, and that's another area of focus for Alpine.
"We are very keen on improving our ability not to analyse data, but to make decisions from it," says Harman. "What we need to be better at is taking that measurement data and actually visualising in a most efficient manner to give the aerodynamicists a chance to make a decision.
"We're working to produce software that is much more efficient at managing that data and manipulating that data and providing you with something that you can consistently look at and make decisions from."
Aside from the projects already noted there's a longer-term wish list, including some items that may only get a green light if the FIA eventually agrees to adjust the capital expenditure allowance and give teams more leeway to spend.
"We would want to look at some of our brake testing facilities," says Harman. "We want to have a look at some of our heat rejection system testing abilities. And we want to advance our full car dyno system, we'd want to have that all as best-in-class systems.
"We also would like to have a look around the way we operate suspension validation, and how we do that in one hit, rather than doing it in lots of different sub-sections.
"We can't do all at once. But the minute we have that headroom, we'll do it straight away because we've got the resources to be able to do it. We just need to be able to do it in a legal way within the regulations."
Subscribe and access Autosport.com with your ad-blocker.
From Formula 1 to MotoGP we report straight from the paddock because we love our sport, just like you. In order to keep delivering our expert journalism, our website uses advertising. Still, we want to give you the opportunity to enjoy an ad-free and tracker-free website and to continue using your adblocker.
Become a subscriber.
Disable your adblocker.