What to expect from F1's new tyre allocation rule in Hungary
This weekend's Hungarian Grand Prix will see the first use of Formula 1's new alternative tyre allocation regulations after the originally planned debut at Imola was lost to the race cancellation.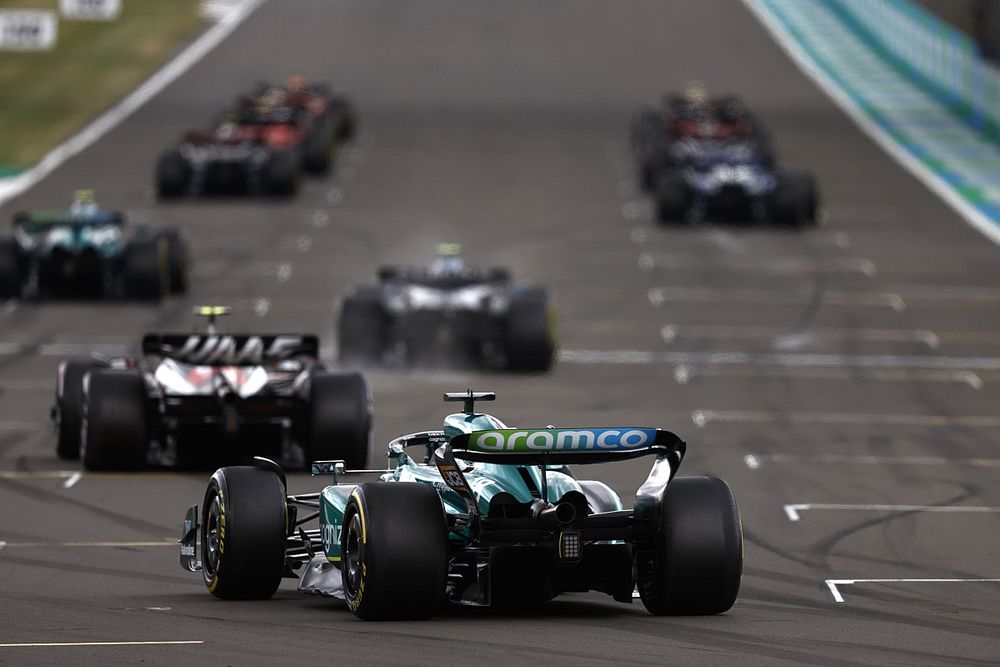 The ATA rules are designed to improve F1's sustainability credentials by reducing the number of sets that Pirelli has to bring to each weekend while also potentially creating some strategic variety on race day.
The format will also be trialled at the Italian GP before its impact is assessed by the FIA and a more extensive use in the future is considered.
The standard weekend allocation of dry tyres is 13 sets, comprised of two hards, three mediums and eight softs.
Under the ATA rules, drivers get only 11 sets, with three hards, four mediums and four softs. One set has to be returned after FP1, another after FP2, and two more after FP3. Drivers must retain a set of hards and a set of mediums for race day, but they should end up with two sets of each and thus more options for race strategy.
Crucially, how teams use the tyres in qualifying is now prescribed. They can only use hards in Q1, mediums in Q2 and softs in Q3.
A similar format has also been adopted this year for the sprint shootout, and as was the case on Saturday in Austria if the session is declared wet, the slick restrictions are voided.
Pirelli has added another element of intrigue by going one step softer than last year and taking its C3, C4 and C5 compounds to Hungary, having done the same for the aborted Imola event. In other words, last year's Budapest medium is this year's hard.
"With the alternative tyre allocation, all the teams will have two sets of hards, two sets of medium and two sets of soft for the race," Pirelli's Mario Isola noted earlier this year.
"So, we can go one step softer, and even if that increases the number of stops, they have enough tyres.
"With the current system, I don't want to say it's risky, because it's just they have to do more pit stops, but if they come to the race with only one set of hard, one set to medium, and all the rest is soft, and the soft is too soft, it's not ideal for the race. Then we have a situation that is not natural and not what we want.
"If things work, we keep [the ATA rules], if it doesn't work, we come back to the previous one. The approach is the right one because unfortunately, even if you try to predict any possible detail, there is always something that is not predictable."
Teams spent a lot of time studying what the impact of the regulations would be prior to Imola, and for this weekend they've referred back to that homework and amended it for Budapest.
"It will definitely add to the challenge," says Mercedes senior race strategy engineer Joseph McMillan. "When it comes to qualifying, we are usually focused on how we get the best out of the soft tyre on a single lap.
"That includes assessing what the optimum tyre preparation is, what the best out-lap profile looks like, among other things. We now must think about that for three different compounds."
As a result, teams could take different approaches to how they use the practice sessions.
"We'll probably see a lot more varied running in free practice," says McMillan. "We always do single lap work on each compound of tyre. But usually, running on the hard tyre just helps the drivers get their eye in for their running on the soft tyre. This weekend, I suspect there will be more discussion around it.
"In terms of run plans, it will be fascinating to see what everyone does. Each team interprets the 'obvious' thing to do slightly differently. How they divide their time and tyre allocation between qualifying and race preparations will be interesting.
"You don't want to be compromised by doing your single lap running when everyone else is focused on long runs. You want to avoid traffic, and you don't want to be completely different to everyone else, as you then have very little idea where you stack up in terms of pace."
Mario Isola, Racing Manager, Pirelli Motorsport, in the Team Principals' Press Conference
Photo by: FIA Pool
McMillan agrees that teams will now have more leeway in terms of what they have available for race day.
"With more sets of the medium and hard tyre than we usually take, we will likely end up with a tyre allocation for the grand prix that looks much nicer than at other races," he says.
"The soft C5 is highly unlikely to be a race tyre. The medium and hard compound will likely be preferred and, with more sets of those to play with, we should be in a better position than usual.
"Normally, we must commit to whether we want a second hard tyre, a second medium, or a soft tyre. At several races this year, we have opted to save a second set of new hard tyres for the race.
"Whilst this does not come into play strategically, it's a major decision all teams must make. This will likely not be the case in Budapest though, and post-qualifying, we will have an ability to select our strategy without some of those limitations we usually have.
"We've agreed an initial proposal of what we will do, but we continue to adapt this across the weekend. We've also had to make a code change to our simulations so that it understands this qualifying format."
All teams are waiting to see how the new regulations pan out this weekend.
"I think that alternative tyre allocations, it's a good thing to be trying," says Aston Martin performance director Tom McCullough.
"I think the drivers won't really mind. Already in the sprint events, we've had a bit of using different compounds in qualifying - obviously in Baku, not the last one with the weather in Austria.
"It's just about how you adapt to understanding the different tyres and try to give the drivers good enough practice on the different compounds before qualifying and still have the good race tyres. That's the challenge for everyone. I think it's interesting to do something like that."
Williams' head of vehicle performance Dave Robson admits to some frustration that there's a compulsory choice in qualifying.
"We'll have to wait and see how it goes," he says. "I would always rather we had the freedom to choose what we do, to be honest. Even if at times we don't, at least we had that opportunity.
"The more prescribed it comes, the less opportunity there is to do something. But as I said I'm open-minded about seeing how it goes. We'll find out."
Subscribe and access Autosport.com with your ad-blocker.
From Formula 1 to MotoGP we report straight from the paddock because we love our sport, just like you. In order to keep delivering our expert journalism, our website uses advertising. Still, we want to give you the opportunity to enjoy an ad-free and tracker-free website and to continue using your adblocker.
Become a subscriber.
Disable your adblocker.