The unexpected factor in F1's tyre tender decision
Will Pirelli finally get the nod to continue as Formula 1's tyre supplier for 2025-28 – and, if so, will the Italian company call it a day when that period concludes?
While F1 awaits official confirmation, Pirelli remains the favourite to beat Bridgestone to the contract, with many paddock insiders suggesting that the deal is now a formality and assuming that, as time drags on, a change becomes less likely.
The twist is that sources suggest a strategic withdrawal from F1 by the Italian company when the next term ends is a possible scenario, one that would leave the championship looking for a new tyre partner for 2029 and beyond.
The FIA launched a tender process earlier this year, and Pirelli and its only challenger Bridgestone were quickly approved by the governing body after their technical proposals were studied.
The next step was the commercial discussion with Stefano Domenicali and the F1 organisation. That has now dragged on for months as the two companies have in effect been played off against each other in a bidding war.
Indeed, in the early stages, the word was that Bridgestone's financial proposal was too good for F1 to walk away from.
Domenicali can't be faulted for trying to squeeze as much out of the sole tyre supplier as he can, as it's his job to maximise revenue for the teams and for his bosses at Liberty Media.
It's not just about the headline fee, but details like how many races will receive title sponsorship, how much signage is placed around the tracks, and even how many guest passes are issued to the tyre supplier.
The discussions have been made more complex by the fact that F2 and F3 are also part of the deal, and by the addition of an important sustainability element, which wasn't part of previous tenders.
The debate has been further complicated by the strong suggestion that should Pirelli win this tender, it will be its last.
Pirelli tyres
Photo by: Erik Junius
In other words, having been the supplier for 18 years from 2011 to 2028, it would walk away from F1 with little more to achieve in terms of building its brand.
If that is indeed Pirelli's plan, the challenge for Domenicali is what happens for the next tender period that commences in 2029.
If Pirelli wins this time and Bridgestone decides to try again in four years, and there is no competition, then the commercial discussions will be very different. It will be a buyer's market, and F1 won't be able to squeeze the Japanese company as hard as it was able to this time around.
On the other hand, it could be that knowing that incumbent Pirelli is going and thus the F1 deal is definitely up for grabs might encourage others, such as Michelin or Hankook, to join the fight, which will ramp up the price.
The nightmare scenario for Domenicali is that there are no bidders at all for the 2029 tender, and fear of that scenario would be one reason to switch to Bridgestone sooner rather than later.
It's easy to suggest the best compromise is that Pirelli gets the upcoming deal and Bridgestone is given the nod for 2029 and beyond, a bit like the IOC naming the next two Olympic host cities, or FIFA choosing two World Cup hosting countries, at the same time.
That would give Bridgestone plenty of time to get its act together and give F1 long-term income guarantees and the knowledge that a supplier is in place to follow Pirelli.
However, that's not how the FIA tender process works so, however convenient, such an arrangement isn't possible.
The commercial side isn't the only consideration for Domenicali, and he has to take into account the on-track impact of introducing a new tyre supplier.
In recent weeks there have been contrasting views up and down the paddock about which way F1 should go. Some believe that it's time for a change, and to give a company other than Pirelli a chance.
There is some nostalgia associated with Bridgestone and its success during the Michael Schumacher era, especially among drivers who grew up at that time, and who haven't always enjoyed using Pirelli's products.
Others believe that it's a case of better the devil you know – Pirelli's service might not be perfect, but at least we're familiar with how the company operates after 13 years.
There's also a strong feeling that, should it win the deal, Bridgestone would face a huge challenge in having first to create tyres for the current cars to use in 2025, while also designing something completely different for the new technical regulations that come into force in 2026, when teams will already have a lot on their plates.
That in turn is related to the testing programme that Bridgestone would have to undertake. Obviously from March next year, the company will take over the 25 in-season days that are currently used by Pirelli for future development and are shared among the 10 teams.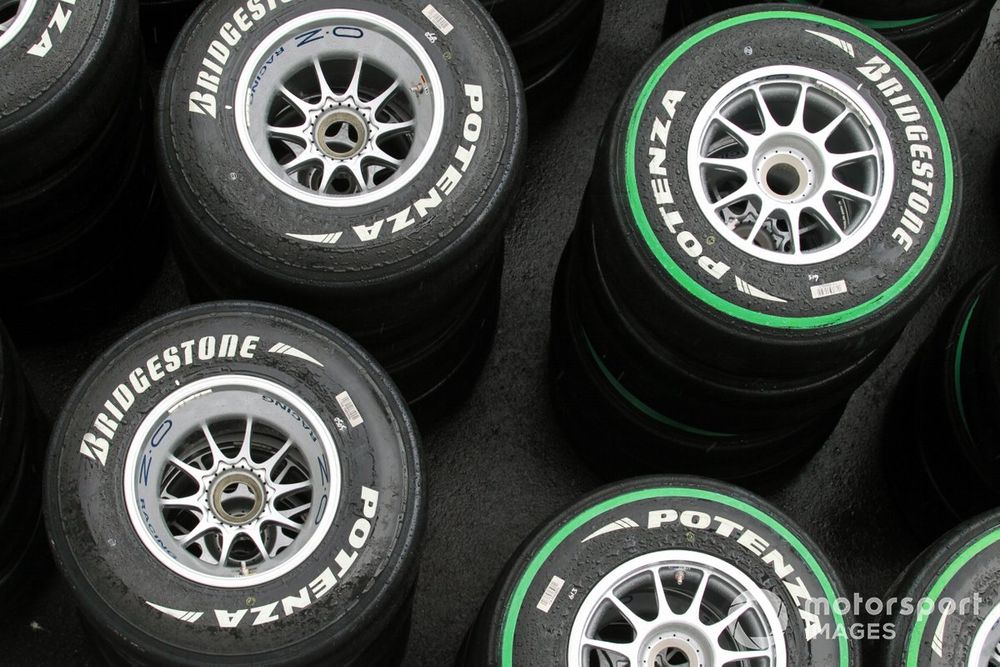 Bridgestone tyres. Formula One World Championship, Rd 15, Singapore Grand Prix, Preparations, Marina Bay Street Circuit, Singapore, Thursday 23 September 2010.
Photo by: Dirk Klynsmith
However, it will need to do a lot of running between now and then, and which team or teams do that work, and how it would be organised, has been a matter of debate.
"If a new tyre supplier comes there are some difficulties there," says Haas boss Guenther Steiner.
"I think the main thing is technical, these tyres, I think they're very technically challenging to make, and if you start with not having done F1 for a long time, like one of the suppliers haven't, how do you go through a test programme, a very expensive test programme?"
Williams team boss James Vowles adds: "I think Guenther summed it up perfectly. The technical challenge to produce tyres for a modern-day F1 car is extraordinary. It's not as easy as it was perhaps 20 years ago.
"The downforce we're now producing is orders of magnitude, almost, higher."
The problem is the longer the decision is delayed, the less sense it makes for Bridgestone to get the deal, given it is starting from zero.
"Technically, I think that it's true that it's quite challenging," says Ferrari's Fred Vasseur. "Also, because we are speaking about one type of tyre for 2025, and probably another one for 2026, it means that you will have to develop two different tyres or construction or perhaps dimensions in the next two or three years. I don't know if it's too late, it's not my job, but it's a challenge."
AlphaTauri's Franz Tost also suggests that time is against Bridgestone.
"First of all, it's good that there are two tyre suppliers who want to provide us with tyres because this brings us additional money and brings FOM into a good situation," says the Austrian.
"From the technical side, I think a new supplier is quite late now with this decision. But anyway, fortunately, that's not my problem."
Tost makes the very obvious point that, in the end, the teams are keen to see their shares of the extra cash that will be added to the prize money pot, whoever wins the tyre deal, and Christian Horner agrees.
"Pirelli is a great company and I'm sure in their tender that they've offered generous terms to the promoter, to the teams," says the Red Bull boss.
"There's many, many millions of reasons that we would love to continue with Pirelli!
"They're a great tyre company, they've given us a great service, and hopefully there's, as I say, several million reasons that that will continue."
Subscribe and access Autosport.com with your ad-blocker.
From Formula 1 to MotoGP we report straight from the paddock because we love our sport, just like you. In order to keep delivering our expert journalism, our website uses advertising. Still, we want to give you the opportunity to enjoy an ad-free and tracker-free website and to continue using your adblocker.
Become a subscriber.
Disable your adblocker.