Has F1 become a victim of its own success amid 'boring races' backlash?
For the second running of the Miami Grand Prix, the team hospitality units have been neatly moved inside the Hard Rock Stadium, home to the Miami Dolphins. That means there'll be no passing on the football pitch this weekend. The growing concern, after a tepid start to the 2023 Formula 1 season, is there won't be much passing on the circuit either. 
Extreme tyre degradation plus Fernando Alonso's late scraps with Carlos Sainz and Lewis Hamilton injected excitement into the Bahrain season opener. Max Verstappen recovering from 15th to second did similar for Saudi Arabia before the red flag chaos unfolded in Australia. Those events aside, the on-track action has left plenty to be desired. And when there was no such smokescreen in either of the Baku sprint or full grand prix, valid allegations of them being boring affairs were rife from viewers.
The lack of drama also hasn't been lost on the paddock. Mercedes driver George Russell reckons 2023 is already "less exciting" and singled out events in Azerbaijan for being as "dull as we all expected". Meanwhile, Pierre Gasly reckons the criticism is a touch premature and that plenty of action might arrive imminently. He compares it to watching a movie, saying: "If you go to the cinema and after 15 minutes the movie is shit but then the last hour and a half is amazing."
Still, though, there's enough of a sample size after four complete rounds to argue that a reduced spectacle is not purely circumstantial. It is instead the result of a complex confluence of factors - a list led by F1 hitting its goal of resetting the rulebook to make the championship uber competitive.
The landmark shift in the technical regulation for 2022 that placed the emphasis on ground-effects was conceived to upset the established order and allow the cars to follow one another more closely without the excessive tyre-shredding and downforce-shedding dirty air. The consensus from drivers throughout last season, even if Red Bull eventually proved dominant and there were no shock winners, was that the latter had been achieved.
PLUS: Why F1's new rules couldn't be ruled a total success after 2022
Twelve months on, there has been a natural convergence from teams' technical departments around the optimum design solution and a window in which to rectify their aerodynamic wrongs. This has created a fiercely contested midfield.
In Q1 in Bahrain, the top 17 cars were separated by less than 0.9 seconds. In Australia, 1.6s covered the fastest race laps set by the top 16. The downside of this tight battle between cars that enjoy varied handling characteristics is that the field is arguably too close for its own good. The drivers don't have a sufficient delta to pass the car ahead as overall performance is too even. This creates the in-race stalemates.
Russell says: "F1 created these regulations to help overtaking and following and since they were introduced, every single team has sort of developed naturally away from their initial intentions. So, every car on the grid is very different compared to what they were intended to look like."
Russell's sprint race battle with Verstappen was one of few memorable on-track bouts in Baku
Photo by: Simon Galloway / Motorsport Images
This was exacerbated in Baku by the DRS zone on the main straight being cut by 100 metres. While the FIA made the change on the fair ground that the overtaking aid proved overpowered in 2022, with the convergence of the field, the alterations seem to have backfired. Apart from the aggressive Red Bulls, lunges for position into Turn 1 were in short supply.
PLUS: How Baku's sprint format change exposed F1's biggest fault
The grid used the drivers' briefing to express their concern, but the governing body has gone ahead anyway and reduced two DRS zones in Miami, which doesn't bode well for a track that didn't produce a contest for the ages last season anyway.
Gasly notes: "Reducing the DRS zones won't help us see more overtakes during the season. It's something we talked about in the drivers' briefing last week, and I'm sure we're going to talk about it this weekend. I think we're in favour to keep the DRS zone as they were last year, clearly not reducing them."
Unimpressed by the tunnel vision, Russell says: "I think all of us didn't really understand why they've been shortened. None of us were consulted about it or asked our opinion on it and I think the race speaks for itself in Baku.
"DRS is there to aid overtaking and it's always exciting when you've got these big DRS advantages and it gives you the opportunity to fight. Clearly in Baku, it was way too short."
Max Verstappen reckons the dry minimum weight limit hitting 798kg has also hurt the ease of overtaking. The bulk now means it's a case of 'one size fits all'. He says: "The cars are probably too heavy, they're too stiff, so you can't really run a kerb to try to find a bit of a different line. Everyone is driving more or less the same line nowadays because of just how the cars work, and how stiff the suspension is. With people finding more and more downforce in the cars, it probably becomes a bit harder to follow as well."
While there were fears the new regulations might be too prescriptive - only for the different takes on how to design a sidepod from Ferrari, Red Bull and Mercedes helping to allay those - teams have naturally sought to exploit every inch of slack for 2023. This has tempted them to stray from the rule makers' intentions by bringing evolved aero configurations that again make it harder for drivers to follow closely to tee themselves up for an overtake.
Are teams now too closely converged in their design philosophies to produce good racing?
Photo by: Zak Mauger / Motorsport Images
This is added to last year's problem of the reduced effectiveness of slipstreaming. With greater emphasis now placed on the underfloor aero rather than top surfaces, drivers reported throughout 2022 that the car ahead was no longer punching quite such a big hole in the air. That made it harder for them to grab a tow and reel in the car ahead. With this sensation still in effect, drivers are less able to catch a rival on a straight and now have less room to deploy DRS and finally find it harder to follow through the corners.
The final factor at play is the tyres. Pirelli entered F1 in 2011 with a design brief to create capricious rubber with extreme degradation to promote divergent strategies and therefore enhance the on-track action. But discontent from the drivers and a desire from the championship to change tack amid viewer consternation concerning the emphasis on conservation has led the manufacturer to develop increasingly durable rubber. F1 has since got its wish.
All told, setting aside the anomalously abrasive asphalt of Bahrain, there hasn't been pronounced levels of degradation so far this campaign to increase the jeopardy. This has left to fewer pitstops and fewer cases of drivers killing their tyres to allow rivals to close.
Again, hurting Baku, the early safety car gifted most teams a window in which to complete their one-stop run. Thereafter, a stalemate was established. Alpine, meanwhile, kept Esteban Ocon out on track with his starting hard tyres until the final lap when he dived in for his mandatory change only to be greeted by marshals and photographers who had been released into the pitlane too early. That 186-mile effort before pitting marked the longest stint managed by the C3 compound since 2015.
Ocon reckons: "We've done three races with no degradation at the moment, which creates more difficulties to overtake. In Bahrain, we've seen much more overtaking than the last three and there was no deg in Australia, no deg in Jeddah, no deg in Baku. As soon as there's a bit more degradation, there's more fights and more fun on track."
Russell adds: "It's been easy one-stops in the last couple of races. When everybody's pushing flat out, there are less exciting races… We're going to speak with the FIA and F1 about this because we want to be able to race, we want to be able to fight, as we all did in in go-karts, where there was no aerodynamics. So that's the ultimate dream.
"The sport took a really good turn for the better when these new cars were introduced, but we need to take it to the next step now."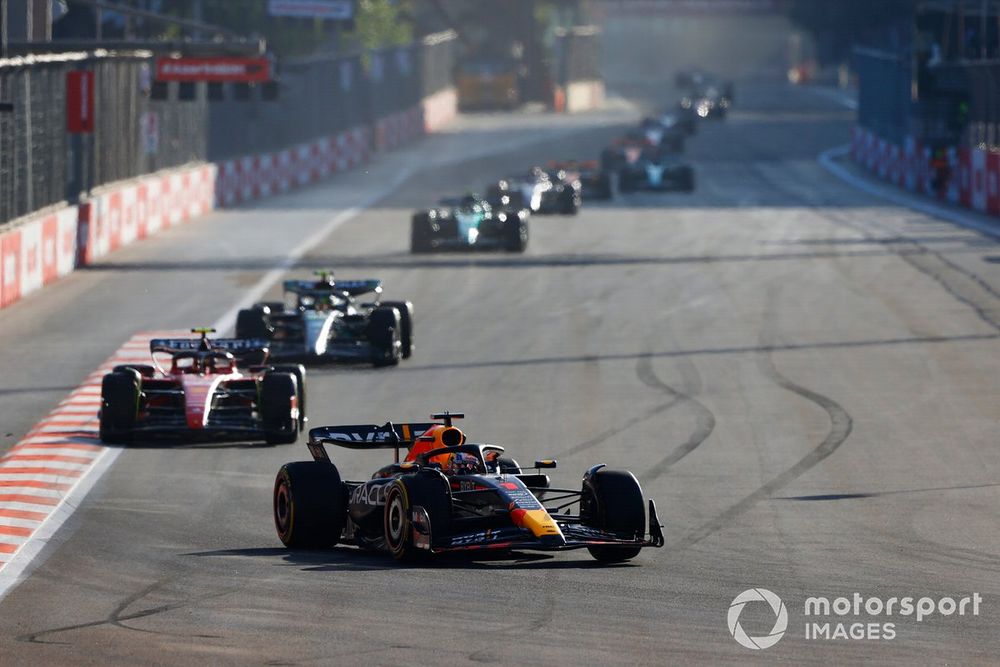 Can F1 turn things around in Miami after a decidedly dull Baku?
Photo by: Andy Hone / Motorsport Images
Subscribe and access Autosport.com with your ad-blocker.
From Formula 1 to MotoGP we report straight from the paddock because we love our sport, just like you. In order to keep delivering our expert journalism, our website uses advertising. Still, we want to give you the opportunity to enjoy an ad-free and tracker-free website and to continue using your adblocker.
Become a subscriber.
Disable your adblocker.