Friday favourite: The forgotten 1990s F1 car adored by a Spa legend
Compared to his successes in touring cars and sportscars, Eric van de Poele's Formula 1 career was thoroughly unfulfilling. But the five-time Spa 24 Hours winner rates a little-remembered grand prix car he only raced three times as his all-time favourite
As the driver who has the most wins of anybody in Spa 24 Hours history, you'd bank on Eric van de Poele selecting one of the machines that carried him to victory in the Belgian classic as his favourite car. But BMW's all-conquering M3 tin-top, with which van de Poele also won the DTM crown in 1987, and the Maserati MC12 GT1 he took to three wins between 2005 and 2008 are beaten to top spot by an unlikely candidate.
PLUS: The unwanted GT car that changed sportscar racing forever
The Fondmetal GR02 was the final car in the two-year Formula 1 tenure of Gabriele Rumi's team formerly known as Osella, and scored no points. Van de Poele only raced it three times in 1992, and on the team's final outing at Monza his clutch gave up on the opening lap as financial pressure hit the supply of spares. However van de Poele regards it not only as the best F1 car he drove in anger, but also "the best car I had on a track".
"I never drove before as good [an] F1 [car]," says van de Poele, who also praises the "fantastic" Bentley EXP Speed 8 he raced twice at Le Mans, finishing third in 2001. "When I jumped in the Fondmetal I had the [Ford] HB engine, it was fantastic. I was always surprised about the traction of this car, it was unbelievable.
"I was just sad to have done only three races], I had not really a lot of time to be in the car. If I could have been [in it for] the season I'm sure we could have been much better than what we have done with this car, the potential was incredible."
Stating that the Fondmetal was the best of his F1 cars is an unintentionally back-handed compliment given the calibre of the machines the 1990 Formula 3000 runner-up had driven previously. He'd stepped up to F1 in 1991 aboard the Modena Lamborghini and came within a whisker of a giantkilling fifth place in the San Marino Grand Prix, but never again managed to qualify it for a race.
PLUS: The great unheralded Imola F1 drives
And when he joined Brabham for 1992, the underdeveloped BT60B now adapted to accommodate Judd engines after the cash-strapped team's divorce from Yamaha meant he only qualified once in ten attempts in Kyalami. Damon Hill didn't fare much better after replacing Giovanna Amati, only making the cut twice.
The underdeveloped Brabham BT60B Judd meant van de Poele and Hill spent the bulk of 1992 failing to qualify
Photo by: Rainer W. Schlegelmilch / Motorsport Images
"The Brabham was a really good chassis but we knew we had much less power than others, we had no development from Judd because there was no money in the team," he says.
"We were happy about the result when we went quicker with that car than the year before, because the year before was the same car. It was a very difficult year, even sometimes I came to see on the Thursday if it was [still] my name on the car because we had the pressure to pay more per grand prix. We knew the team was really down, but we had fantastic way to work together."
PLUS: The forgettable final car of a former F1 giant that gave Damon Hill his start
Van de Poele found life a whole lot easier upon replacing Andrea Chiesa at Fondmetal for the sinuous Hungaroring, even if Sergio Rinland's creation was by no means a front-runner in a season where there was a huge 1.492% gulf between the Williams FW14B and closest challenger McLaren on Supertimes.
Fondmetal was the 12th fastest team in 1992, 5.412% down on Williams. For a comparison, as the slowest team of 2022 Williams was 2.516% off the pace. But, compared to the Brabham, van de Poele says the GR02 "was another world".
"With the Fondmetal I did my first three laps to warming up in the qualifying and then I came back to change, I can't remember what, and I was already qualified" Eric van de Poele
Even without any testing, he followed team-mate Gabriele Tarquini cleanly through pre-qualifying and comfortably made the cut in 18th – six spots behind Tarquini but ahead of both Tyrrells and Scuderia Italia-Dallaras.
"It was incredible, in my warming lap I was qualified!" van de Poele remembers. "Before, we were trying to cut the chicane, to do many things with the Brabham, but we never get to qualify.
"And there with the Fondmetal I did my first three laps to warming up in the qualifying and then I came back to change, I can't remember what, and I was already qualified!"
His race unfortunately didn't last long, ending with a spin on lap three, but on home turf at Spa van de Poele was in confident mood. He qualified mid-grid in 15th, four spots behind Tarquini (albeit a yawning 6.12s off poleman Nigel Mansell in the dominant Williams).
On his second outing with the Fondmetal at Spa, van de Poele qualified comfortably mid-pack in 15th - in a different world than he'd been with the Brabham
Photo by: Motorsport Images
PLUS: The underfunded car that holds a notable F1 record
"It was really fantastic – and I was not at the limit!" says van de Poele. "Tarquini was better than me there and I'm sure we could have improved with a little testing. Unfortunately, the team couldn't afford that.
"But the potential of that car was really incredible, it's why I was competitive straight away in Spa. Okay I knew the track, but it was not an advantage compared to the other ones."
In the mixed conditions that aided Benetton's Michael Schumacher on his way to a maiden F1 win, van de Poele drove sensibly to tenth after engine woes sidelined Tarquini.
By Monza the team's financial woes had become critical, and the Fondmetals had regressed to the tail-end of the grid – but Tarquini made the cut in 20th and van de Poele 25th. Unfortunately for the Belgian, his clutch expired immediately after the start. He didn't know it at the time, but it would mark the end of his F1 career. Tarquini too was sidelined by gearbox failure while running 16th and last on lap 30.
"I was very upset a little bit at the team because they didn't tell me they didn't change the clutch," van de Poele says. "If they had told me that, I could have started differently and I'm sure I could have done maybe more laps. It was really a pity.
"I didn't know it was my last race, I still hoped we could do the end of the season."
Yet van de Poele's Fondmetal story wouldn't end there. Together with friend of 40 years Alain Jadot, a regular in Spa's 25-hour Fun Cup race and historic competiton, he located the car in Rome "in a living room of a friend of Gabriele Rumi". They travelled together to see it and van de Poele soon recognised his own seat and pedal configuration.
"So I was the last one who drove this car," he says.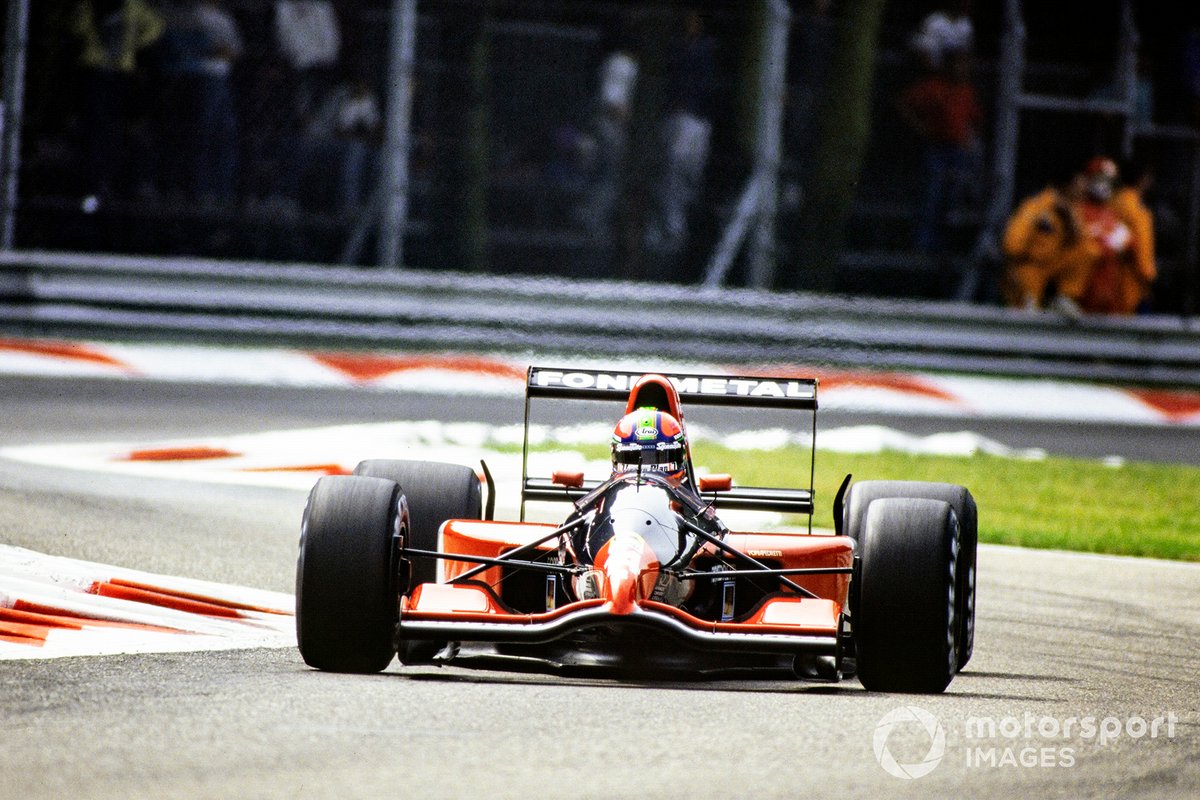 Lamentably, Monza was thwarted by reliability woes and marked van de Poele's final F1 start - but wouldn't be his last time sat in the Fondmetal
Photo by: Rainer W. Schlegelmilch / Motorsport Images
Jadot's negotiations were successful and it was brought back to Belgium, where with input from Rinland it was restored to working order by MecAuto with a new engine prepared by Langford Performance Engineering in Wellingborough.
How to be an ace engineer: Engine builder Richard Langford
Van de Poele then gave it a demonstration run on the weekend of the farcical rain-affected 2021 Belgian GP, a memory that he's still cheered by today.
"But the potential of that car was really incredible, it's why I was competitive straight away in Spa. Okay I knew the track, but it was not an advantage compared to the other ones" Eric van de Poele
"Unfortunately we couldn't drive on the Sunday, it could have helped people to see something!" chuckles van de Poele. "The car is like new, it's beautiful."
Today it's based just 15km from his home, and the unlikely F1 love story remains alive.
"You know, you work all your life to reach Formula 1," he reflects. "And then one day with your old friend you go to Roma with a van and a trailer and you bring back your F1 car at home. It's incredible, a dream coming true."
Van de Poele was delighted to be reunited with his Fondmetal GR02 chassis when it passed into the ownership of friend Jadot
Photo by: Sutton Images
Subscribe and access Autosport.com with your ad-blocker.
From Formula 1 to MotoGP we report straight from the paddock because we love our sport, just like you. In order to keep delivering our expert journalism, our website uses advertising. Still, we want to give you the opportunity to enjoy an ad-free and tracker-free website and to continue using your adblocker.
Become a subscriber.
Disable your adblocker.