Autosport 70: How Scheckter instigated Silverstone's most famous F1 incident
Jody Scheckter famously triggered one of Formula 1's most infamous crashes at the 1973 British Grand Prix. For the 8 August 2013 issue of Autosport magazine, we spoke to him and other drivers who were involved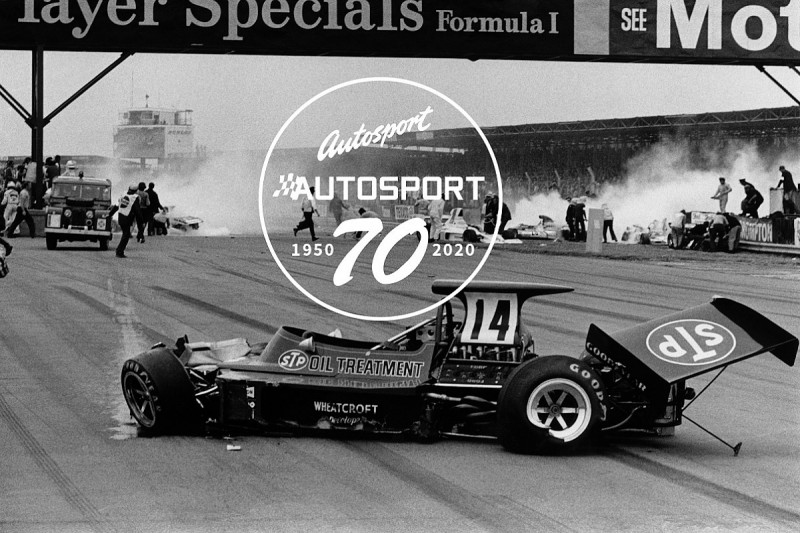 At the end of the first lap of the 1973 British Grand Prix, Formula 1 new boy Jody Scheckter is lying in fourth position when his McLaren slides wide at the exit of the ultra-fast Woodcote right-hander. The ensuing spin and accident will involve nine cars and become one of the most famous multi-car incidents in F1, perhaps now only behind the 1998 Belgian GP crash.
Astonishingly, the only driver to sustain injuries in the resulting chaos was Italian Andrea de Adamich. It took almost an hour to cut him out of his Brabham BT42 (below), with the result ending his single-seater career.
Scheckter's view
"We changed to a harder compound on the left-rear tyre," recalls the South African. "I don't think we'd run it before, but we did for this race because we didn't think the softer tyre would last. All the corners were right-handers, and Woodcote wasn't flat, but nearly flat.
"I got halfway round and the car just twitched around and went onto the dirt. I got sideways, my front wheels fully locked leftways. I thought if I lifted off the brake it would roll forward and I could carry on, but it went straight into the wall.
"I jumped out and asked where the spare car was but Phil Kerr, the team manager, told me to hide away! I was given a really hard time" Jody Scheckter
"I looked up and cars were crashing before they hit me. I put my head down and it seemed quiet so I was ready to jump out. Then I looked up and they were still crashing!
"There weren't as many rules then as today. These days, they would have put me out for a couple of races. I jumped out and asked where the spare car was but Phil Kerr, the team manager, told me to hide away! I was given a really hard time.
"Maybe if I'd gone a little slower, I wouldn't have come off. Maybe when I was older I was a little more cautious. But crashing and doing a good job are so close sometimes. That's what racing is all about.
"It didn't bother me when I was young. I hated the thought I would cause an accident and someone would get hurt but you don't think you are going to get hurt. The first time I realised I could get hurt was when I saw Francois Cevert killed [in practice at Watkins Glen], and I was the first on the scene..."
Andrea de Adamich Q&A
Autosport: What do you recall of the crash?
Andrea de Adamich: Unfortunately I remember everything. I never lost consciousness. Only when everything was finished and I was put into the ambulance did my mind 'disappear'.
At the old Silverstone, we were flat-out in fifth gear in front on the pits at 160mph with full tanks of petrol. In this case, if you see the turbulence in front of you, the driver only thinks to find the best way between the other cars not to lose time. I saw a good space in front of me and lifted off the brakes and started to accelerate through. At the same time, the BRM of Jean-Pierre Beltoise was hit from the rear by somebody else [Carlos Pace] and turned 90 degrees to the left, closing my open space.
Top 10: F1 one-hit wonders ranked
I crashed badly with my nose into the engine of the BRM and my Brabham was directed into the guardrail, where I crashed again.
AS: Why did it take so long to free you from the car?
AdA: It took 52 minutes. The main problems were the full tanks of petrol; the tanks around my seat and the cockpit were very damaged. The instruments and plastic body were supported by tubular elements that collapsed into my legs.
To take me out it was necessary to open up the car in a longitudinal way to avoid cutting the lateral tanks. The marshals also used hydro-cutting machinery to avoid sparks, which would have been risky with petrol and vapour.
AS: What injuries did you suffer?
AdA: I broke my left knee and, badly, the right ankle. The left ankle was the worst. I couldn't stand up for three months.
AS: Scheckter had a lot of criticism. Was he pushing too hard?
AdA: I don't judge Jody for the accident - it was a mistake. But I do criticise his impolite position. He never called me or my team to offer greetings for a quick return.
The Fittipaldis
Brothers Emerson (Lotus) and Wilson (Brabham) Fittipaldi were battling side by side when the Scheckter accident happened.
Emerson: "The crash happened ahead of me. There was something very special about that race. My mother never wanted to watch; she used to go to the grands prix and stay in the car park. I told my mother, 'You get so nervous, you have to watch one grand prix and see how it happens'.
"Jody was completely sideways. I asked myself whether to stay on the road or jump to the grass. My decision was the grass" Wilson Fittipaldi
"She went up on the garages to watch... at Woodcote! After the race, she said she would never watch another one. That was too much for her! My brother and I both had a close miss."

Wilson: "I saw the black nose of Emerson's Lotus pulling alongside. When we came out of the corner I looked ahead. Jody was completely sideways. I asked myself whether to stay on the road or jump to the grass.
"My decision was the grass, but I was sideways. Emerson also jumped onto the grass, and we managed to just get past."
Consequences
While Peter Revson went on to win the restarted race for McLaren, the accident did little to mend his team-mate Scheckter's reputation for being fast and wild.
"The mentality was different because so many people got killed back then," says Jackie Stewart, who would go on to take his third world title that season before retiring.
"The Grand Prix Drivers' Association met at every GP. Discipline was dished out to a young driver who was a hooligan - three of the GPDA members would go and speak to you."
So did anyone speak to Jody after Silverstone? "Oh yes..." replies Stewart.
Subscribe and access Autosport.com with your ad-blocker.
From Formula 1 to MotoGP we report straight from the paddock because we love our sport, just like you. In order to keep delivering our expert journalism, our website uses advertising. Still, we want to give you the opportunity to enjoy an ad-free and tracker-free website and to continue using your adblocker.
Become a subscriber.
Disable your adblocker.