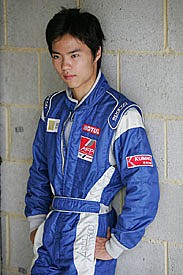 HRT has announced Chinese driver Ma Qing Hua as part of the Spanish squad's new driver development programme.
HRT said the programme would include a professional assessment of his career, private tests with cars from different categories and simulator tests.
The team said Ma "could take to the wheel" of its car in the young driver test later this year if the results of the partnership are "satisfactory."
"I'm very honoured to form a part of the driver development programme at HRT Formula 1 Team since, with work and effort, it will allow me to become the first Chinese Formula 1 driver," he said.
"It's a very special moment for me and it's hard to express how happy I am. I've dreamt of becoming a Formula 1 driver since I was very small."
Ma is a former A1 GP, Formula 3 and Superleague Series driver.