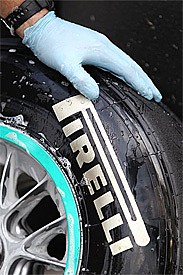 Pirelli's new medium tyre compound will make its racing debut in this weekend's European GP following a successful test in Canada.
The rubber, which was tested during practice in Montreal, will be the 'prime' tyre in Valencia, with the soft to be used as 'option'.
The PZero White medium tyre is not quite as durable as the hards, but "it is quicker while still representing a significant step in range over the option tyre," according to Pirelli.
"We've seen some fantastic street races so far this season, with the last grand prix in Canada being one of the highlights of the year, so we hope that Valencia will continue this pattern although it's notoriously difficult to overtake there," said Pirelli's Paul Hembery.
"Tyre wear on this circuit is likely to be quite high because of the track layout, the nature of the surface, and also the weather conditions, which should be very warm.
"For all these reasons, we've selected the medium and soft tyres, which should provide the teams with a good level of resistance, plenty of different opportunities for strategy and about a second per lap difference between the compounds.
"The PZero White tyres have been adjusted slightly from our original specification to make them a bit more durable, along the lines of the tweak we made to the PZero Silver hard tyre in Spain, and this was the compound that the teams tested during Friday's free practice in Canada, giving us plenty of useful data."
Autosport has produced a standalone special magazine to celebrate our 70th birthday. All current print subscribers will receive a copy for free. To order your copy of the 196-page Autosport 70th Anniversary issue, please go to: autosport.com/autosport70th