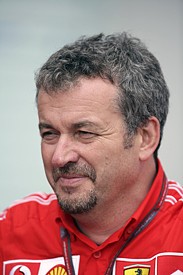 Nigel Stepney, the former Ferrari engineer at the centre of the 2007 spying scandal, has been sentenced to 20 months in prison for his part in the affair according to the Reuters news agency - but under the Italian legal system it is thought highly unlikely that he will serve the sentence.
Ferrari originally launched criminal proceedings against Stepney in June '07, shortly before the scandal broke. Stepney was accused of plotting to sabotage Ferrari's cars, and of passing confidential data to the team's main rival McLaren.
McLaren was subsequently fined $100 million and excluded from that season's constructors' championship, while the FIA encouraged teams to avoid working with Stepney and McLaren's Mike Coughlan, the other main figure in the scandal, although this was later lifted and Stepney went on to work in GT racing.
Although the FIA and the teams involved considered the matter closed, the criminal proceedings against Stepney continued. Reuters cites local media reports that Stepney's legal team entered into a plea bargain in a court in Sassuolo, and that today the jail sentence was passed along with a 600 euro fine.