Force India have released the first images of their 2009 Formula One contender ahead of its track debut at Jerez tomorrow.
The VJM02 marks the start of Force India's new technical partnership with McLaren and Mercedes, who have provided the car's engine, gearbox and Kinetic Energy Recovery System.
The car features a significantly different livery, with the green, white and orange Indian national colours taking precedence. It was shaken down in a private test at Silverstone earlier this week.
After a frustrating 2008 season in which they failed to score a point, Force India hope that their collaboration with McLaren-Mercedes will result in huge progress over the next two years.
"At least from my perspective, winning races I think I can certainly aspire for maybe in 2010, but for 2009 I would be happy if we are regularly in the points," said team co-owner Vijay Mallya at the announcement of the McLaren-Mercedes deal last November. "That would be already a major step forward."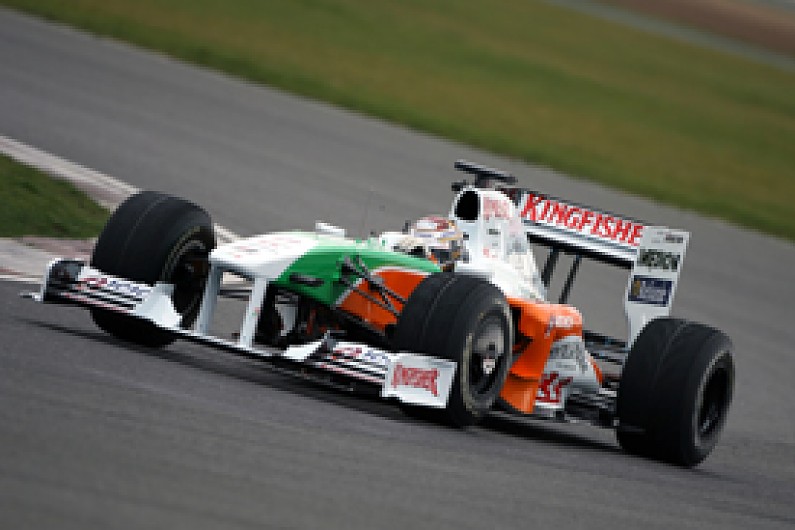 Mallya has taken greater control of the team over the winter, with both former chief technical officer Mike Gascoyne and team principal Colin Kolles being released from their contracts at the end of the 2008 season. Mark Smith and James Key are now in charge of car design, while Simon Roberts has moved across from McLaren to become chief operating officer.
However Force India have retained their 2008 driver line-up, with Giancarlo Fisichella and Adrian Sutil continuing in the race seats and Vitantonio Liuzzi staying on as reserve.