Mercedes has revealed Lewis Hamilton's stoppage on the penultimate day of Formula 1 pre-season testing at Barcelona on Thursday was the result of an engine problem.
The world champion's W11 ground to a halt at the exit of Turn 5 in the afternoon session, which prompted a lengthy red-flag period while his car was retrieved.
Mercedes confirmed that a power unit issue had caused Hamilton to stop, and later revealed this was an "oil pressure anomaly", which it said made the engine shut down as a precautionary measure.
The team is continuing its investigations, and said Hamilton - who completed only 14 laps in the afternoon session prior to the problem - would not return to the track.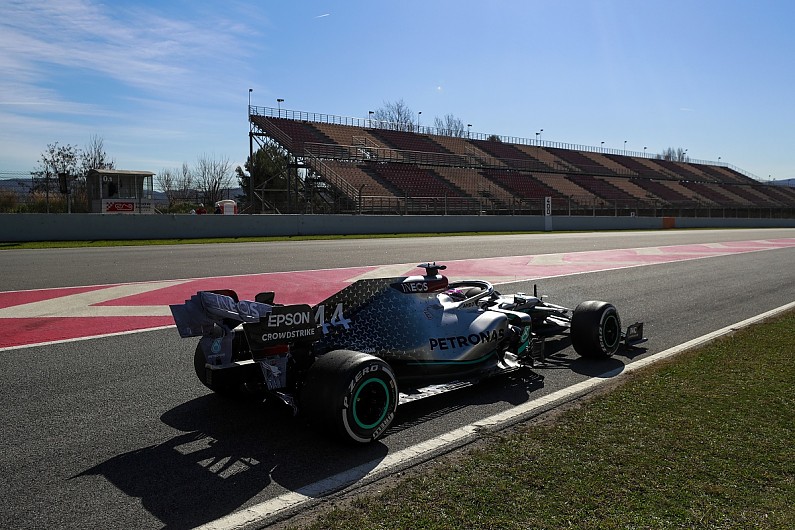 As revealed by Autosport last weekend, Mercedes used two engines during the first week of testing when Valtteri Bottas suffered a failure last Thursday.
A fresh engine had to be fitted for Friday.
Mercedes customer Williams has also run three engines so far in pre-season testing, with Nicolas Latifi suffering two engine problems.
Williams driver George Russell admitted that Mercedes had been aggressive with its engine development for 2020, but felt confident it was dealing with matters.
"Mercedes are really pushing on the engine front, definitely pushing the boundaries at the moment," he said.
"This is testing and these things are always going to happen but you know that as an engine supplier they are on top of things."
The Mercedes engine problems come after its engine chief Andy Cowell admitted a few weeks ago that it had been fighting "a few little issues" in preparation for testing.