Alex Albon is working to understand the "tricks and quirks" of Red Bull's 2019 Formula 1 car after finishing fifth on his senior team debut at the Belgian Grand Prix.
Albon was promoted to Red Bull after just 12 races at Toro Rosso, but had to start 17th at Spa after his car was fitted with an upgraded Honda engine ahead of the race.
That meant he had to work his way up through the midfield pack, which he eventually did, pulling off a series of late passes on soft tyres after struggling with the harder medium rubber in the first stint.
Albon passed Sergio Perez for fifth on the final lap after McLaren's Lando Norris retired from that position when he lost power late on.
"I still need time and I know I'm still improving - I'm kind of in the deep end but I do feel I will get better," said Albon, when asked by Autosport if his result proved he can perform in a top car.
"So that's kind of my attitude towards [last] weekend and yeah, even from Friday to [Sunday at Spa], I understood the car a lot better.
"It's just really [about] chipping away at it and I am quite happy with how it's gone.
"There's still definitely things I'm not comfortable with. It's not that it's not comfortable, it's just that it's very different.
"It's just [about] rewiring - break the style the of the Toro Rosso car and understand the tricks and quirks of the Red Bull car.
"And that takes a bit of time because initially everyone knows how to drive a car to a good level and then it's just [about] getting them extra tenths out - [to] understand the car, not just driving-wise, but also set-up-wise."
Red Bull team principal Christian Horner said Albon had "impressed me all weekend with his approach, his feedback, his pace" at Spa.
"In the race, I think he did a very mature job," Horner added.
"First half of the race we weren't quite as competitive on the harder tyre as we were on the softer tyre but he didn't make any silly mistakes or take any silly risks.
"He just dialled himself in. We said you'll find the car comes alive in the second half of the race and it certainly did with him and his moves.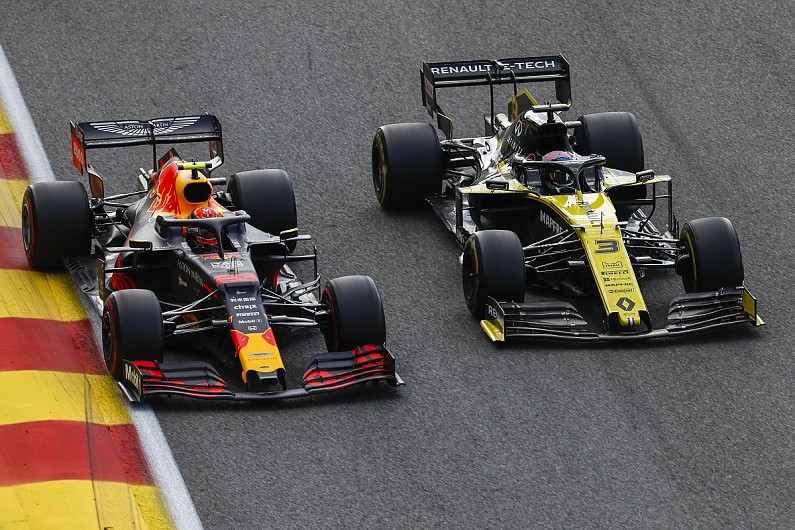 "We know Daniel [Ricciardo]'s a tough racer, his move on Daniel [for P8 on lap 35], his other passes, his move Sergio on the last lap, were extremely impressive.
"It was an encouraging start for him and hopefully he'll have a clean weekend with a straightforward qualifying in Monza.
"But certainly he's made a very favourable impression with the engineering team within the garage, certainly a good start."