Alfa Romeo tested a low-downforce rear wing in Formula 1's opening practice session at the Hungaroring in anticipation of the Belgian Grand Prix that follows the summer break.
Running on Antonio Giovinazzi's car, the wing was doused in flow-vis paint ahead of a solitary installation lap to examine the flow structures present.
It is not expected to be used any further throughout the Hungarian Grand Prix weekend because the circuit's technical nature requires a similar downforce level to Monaco.
The wing features a shallow angle of attack at the outboard ends, trimming off drag and downforce to cope with the high-speed demands of the Spa-Francorchamps circuit.
This transitions into a spoon shape in the centre, which is responsible for generating downforce - a requirement when coping with the slower corners on the circuit.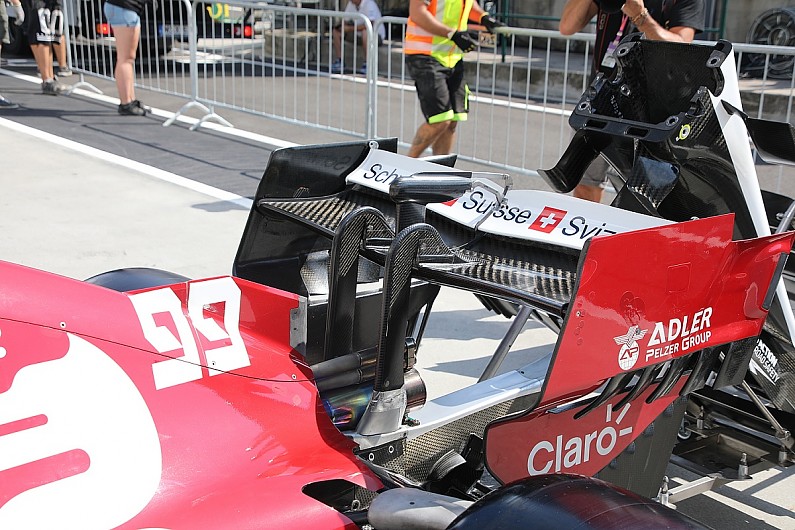 Also, the DRS-activated top wing plane has a shorter chord length and does not feature a Gurney flap along the trailing edge.
The wing was the first look at a full low-downforce specification in 2019, following the changes to the rear wing dimensions for this season.
It is unclear whether this will be the final wing concept to be used at Spa.
Kimi Raikkonen was equipped with the regular rear wing to allow the installation laps to be run back-to-back, taking advantage of the same track conditions and ambient temperatures to assist with data correlation from the wind tunnel.