The McLaren Formula 1 team has now confirmed that overheating brakes set in motion a chain of events that led to Lando Norris's unusual Canadian Grand Prix suspension breakage.
Norris retired in Montreal when his right rear suspension collapsed as he crossed the line at the end of his eighth lap.
He stopped just past the pits with a small fire visible around that area of the car after running wide at the final corner.
He had gone straight across the Turn 3/4 chicane earlier in the lap, an event that the team believes signalled the start of the brake issues.
After a detailed investigation McLaren has concluded that high brake temperatures ultimately triggered the fire that created the suspension breakage.
"We had high temperatures in the brakes," a team spokesperson told Autosport.
"That caused a component failure, which basically created a localised fire.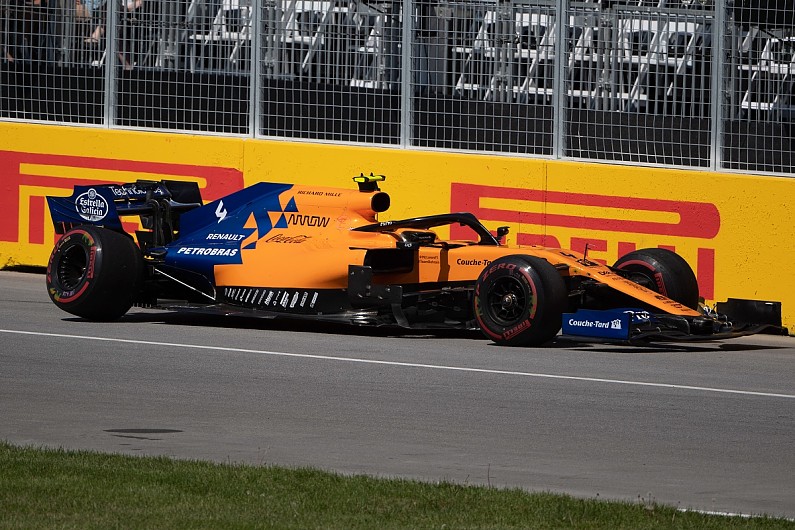 "Because it was in an area where there isn't any airflow, it didn't get extinguished, and basically we exceeded the temperatures that carbon can withstand, and effectively that led to the suspension giving way.
"We're clear about what happened, so it's not an ongoing issue - it was a singular event."
Norris's problems were not connected to a brake temperature issue that caused an early pitstop for team mate Carlos Sainz Jr.
"Carlos had brake overheating caused by a tear-off, so it wasn't related at all," the spokesperson added.
"We removed that and it returned to normal."