Dan Gurney was one of motorsport's greatest innovators and free-thinking spirits, as well as a world-class driver who survived and excelled in one of racing's most deadly eras.
Perhaps he will always be most famous for winning the 1967 Belgian Grand Prix (pictured above) in the exquisite Eagle-Weslake, a car of his own creation. But his engineering acumen, his quest for innovative solutions, his can-do attitude and his constant drive should not overshadow his magnificent ability behind the wheel.
Gurney wasn't just one of the greatest drivers America has ever produced; he is one of the greatest drivers of all time. Jim Clark famously described Gurney as the only rival he feared, and that is an endorsement that transcends most trophies.
Perhaps it was his time serving in the US Army during the Korean War that gave Gurney his bold attitude to danger, but it was his family's move from New York state to California that meant he was swiftly imbued in the SoCal hotrod scene. While still a teenager he crossed the famous Bonneville Salt Flats at 138mph in a self-built hotrod, and became an amateur sportscar racer.
Getting called up by Frank Arciero to race his Arciero Special, Gurney tamed this brute of a machine to finish second in the Riverside Grand Prix. That attracted the attention of legendary Ferrari importer Luigi Chinetti who teamed him with Bruce Kessler at Le Mans in 1958. And that, in turn, earned him attention from Enzo Ferrari, who was impressed enough with Gurney's testing of the Ferrari Dino 246 that he entered him in four grands prix the following year.
Swiftly, Dan shone, qualifying third and finishing second in only his second GP - around the fearsome Nurburgring Nordschleife. In the following race at Monsanto, Portugal, he was fastest of the Ferrari drivers, finishing third (pictured below) - and first among the drivers of front-engined machinery.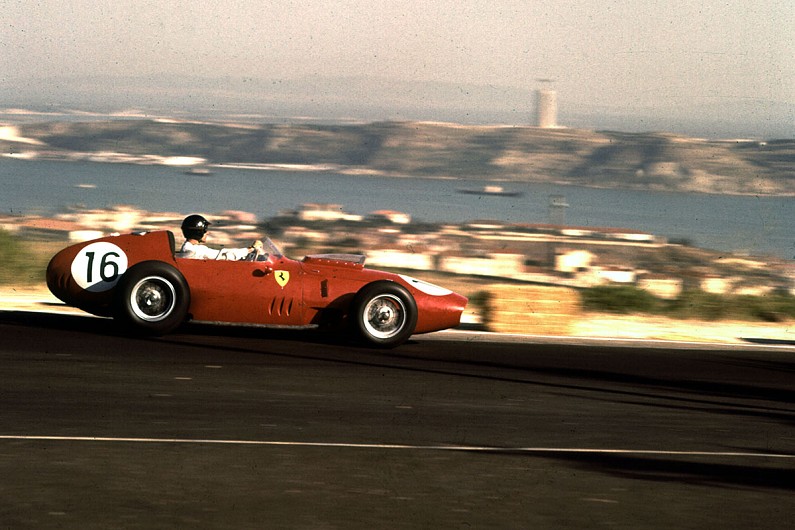 Qualifying and finishing fourth at Monza, in front of the tifosi, should have cemented Gurney's relationship with the Scuderia but he chose to sidestep the politics and depart for BRM, where he encountered only unreliability, frustration and tragedy. A brake failure in the Dutch Grand Prix caused a crash that broke his arm and killed a spectator.
1961 and '62 were spent in Porsche's nascent Formula 1 team yielding fourth and fifth in the championship respectively, four podium finishes, his first pole (shining at the Nurburgring again) and a first victory at another scarily fast and demanding course, Rouen-les-Essarts in France. Backing this up, he then won at the non-championship race at Solitude.
When Porsche pulled out of F1 at the end of '62, Jack Brabham - who saw in Gurney a great driver with an engineer's brain - hired him for his own fledgling squad, and again Dan was the man who broke through to score this new constructor's first championship triumph, at Rouen once more.
That first win for the Anglo-Australian marque should have occurred in the race before, because Gurney was dominating the Belgian Grand Prix at Spa from pole position when his car ran out of fuel on the final lap, handing the win to Clark. Three years later, it would be Clark's car that capitulated at Spa, leaving the win to Gurney and the Eagle.
The same thing happened in Mexico City, the season finale in '64, where Gurney was the only driver who could get within one second of Clark in qualifying. When the Scot's Lotus broke on race day, the American's Brabham ran out the winner, over a minute ahead of the new world champion John Surtees in a Ferrari.
Brabham switched from the BT7 to the BT11 (pictured below) in 1965, and while it was not as fleet as Clark's Lotus 33, it was reliable, and in the second half of Gurney's season he racked up three third places and two seconds to cement fourth in the championship.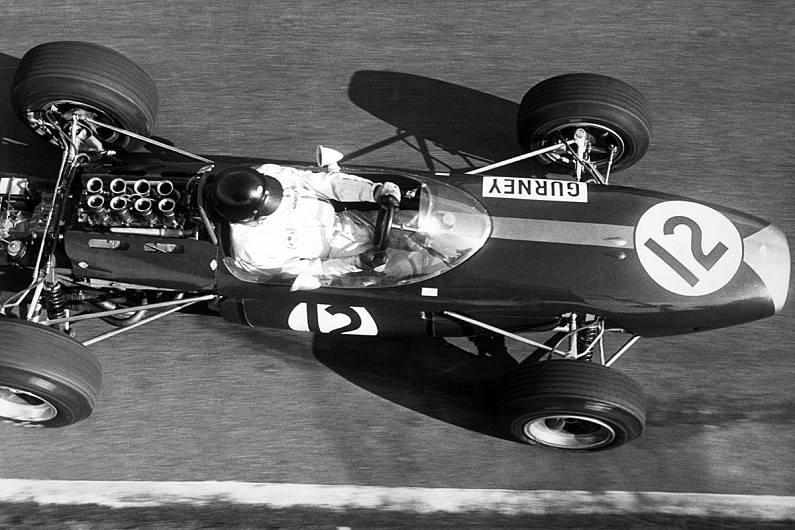 By then Dan had also seen his advice to Lotus founder Colin Chapman pay off in a big way, albeit not for his own benefit. It was at Gurney's urging that Chapman had taken the Indy 500 rear-engined revolution - initiated by Jack Brabham in a Cooper in '61 - to the next level. Clark had finished runner-up in '63 in the Lotus, shone but retired in '64, then dominated in '65. Gurney had been struck by bad luck but had nevertheless proven his mettle at Indy, qualifying on the front row next to Clark in '65.
Had Gurney stayed in Brabham's Formula 1 team, there's little doubt he would have won the world championship in '66 and '67. He was already quicker than the proprietor himself, who in turn was quicker than the man he brought in to replace Gurney, Denny Hulme. And it was Brabham and Hulme who won the titles in those two years.
But Dan, having seen both Brabham and, thanks to Indy racing, Lotus, from the inside, decided to strike out on his own as a constructor, with the All American Racers - also called Anglo American Racers when the cars were powered by the British engines from Climax and Weslake.
The four-cylinder Climax gave the new team little chance of success in '66, although a couple of top-five finishes were earned, but the V12 Weslake - when reliable - put the '67 car in the same ballpark as the Cosworth DFV-powered Lotus 49. Gurney scored just two finishes that year, but one was the famous Spa victory (pictured) and the other was a podium finish at Mosport.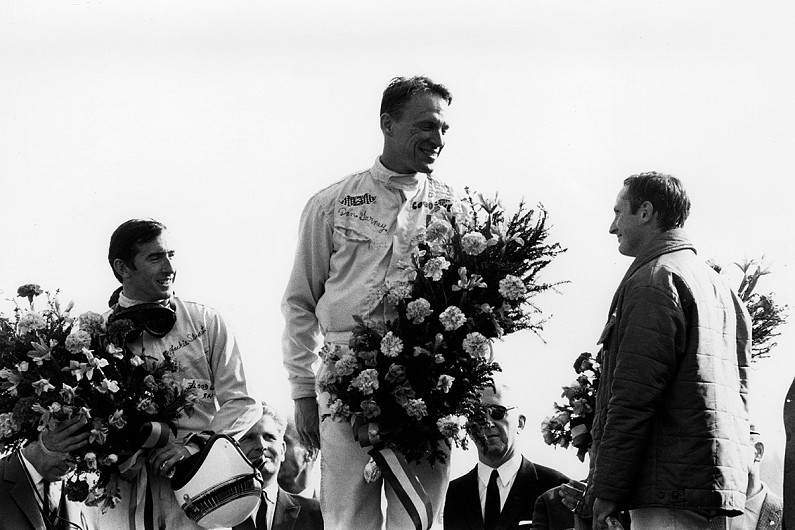 Gurney had first transcended motorsport's narrow boundaries three years earlier when Car & Driver magazine started a tongue-in-cheek campaign with a Dan Gurney for President campaign. Now, in one stunning three-week period, Gurney had qualified second for the Indianapolis 500, won the 24 Hours of Le Mans with AJ Foyt in a Ford GT40 MkIV, and conquered Spa in a Formula 1 car of his own construction. And he started the now traditional champagne-shake for race winners, after spraying Henry Ford II on the podium at Le Mans.
It would have been appropriate for Gurney to eventually score an F1 win at the Nurburgring, a track where he had always excelled, and where he and Stirling Moss had shared victory in the 1000km race driving a Maserati T61 'Birdcage' back in 1960. But the nearest he came to replicating that glory at the Nurburgring in an F1 car was in '67; he was more than 40 seconds ahead of the field with three laps to go when a halfshaft failed.
As AAR's Formula 1 campaign dwindled towards the end of the 1960s, so the Indycar business started receiving ever more attention. Having qualified his Eagle-Ford second for the 1967 Indy 500, Gurney ran out his own open-wheel driving career with three straight top three finishes in the Memorial Day Weekend classic. He would retire from driving with seven Indycar wins to his credit.
By then, Gurney was seeing his Eagles winning in the hands of others, most notably the brilliant Bobby Unser who drove Eagles to victory at Indy in 1968 and '75, also winning the USAC Indycar titles in '68 and '74. In between, Gordon Johncock would drive a Pat Patrick-entered Eagle to glory at Indy in '73.
Gurney introduced the full-face crash-helmet to open-wheel racing, wearing one in the 1968 German Grand Prix, and it was his engineering smarts that led to the invention of what is now known as the Gurney flap, a small lip to add to wings which multiplied the downforce they provided for minimal additional drag.
This same innovative thinking would lead to the 1980 'BLAT' - Boundary Layer Adhesion Technology - Eagle-Chevy. While other Indycar constructors attempted to emulate the Lotus 78/79 F1 car, applying ground effect technology via underbody venturi tunnels (highly successfully in the cases of Chaparral and Penske), Gurney and engineers Trevor Harris and John Ward came up with a shape that directed vortices to the rear bodywork which pinned the car to the ground.
In a trice, the normally-aspirated engined car was on a par with its turbo rivals, allowing Mike Mosley to qualify the Pepsi-sponsored machine on the front row for the 1981 Indy 500. He became the event's first retirement due to an oil leak, and unreliability would also thwart his qualifying effort at Milwaukee.
But after starting last, Mosley drove to the front and won by more than a lap. Later that year he led at Michigan until missing a gearchange and blowing his engine. At season's end, Geoff Brabham put the 'Pepsi Challenger' on pole around Riverside roadcourse, until a pitstop fracas ended his chances.
When CART - an organisation which Gurney had instigated to wrest control of US open-wheel racing away from USAC - banned the BLAT-mobile, Gurney started turning to IMSA sportscar racing for his engineering kicks, having gained little satisfaction from running other constructors' equipment. That eventually led to Eagle creating the Toyota-powered MkIII GTP car, which brought to an abrupt halt the run of IMSA Prototype glory by the Electramotive Nissan.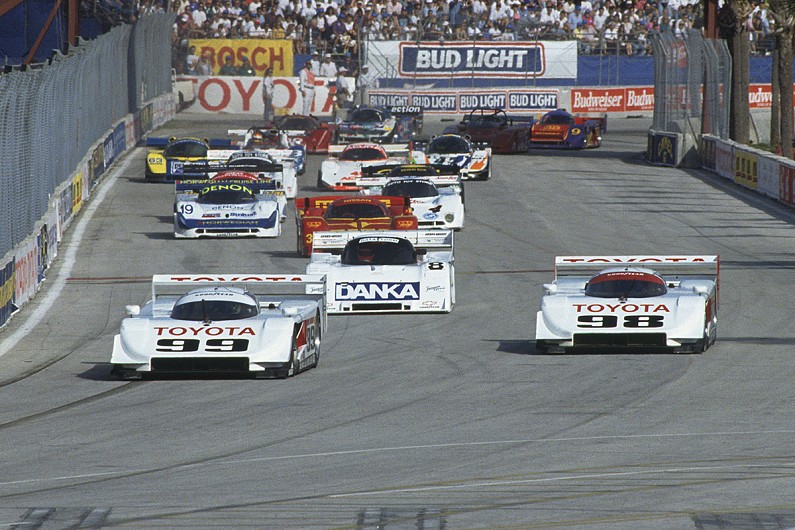 The MkIII, as driven by two sons-of-legends PJ Jones and Juan Fangio II, racked up 17 wins and the 1992 and '93 manufacturers' and drivers' championships.
It's always been difficult to run through all of Gurney's achievements in consecutive order because he was so busy. Even in an era strewn with drivers of genius versatility - Clark, Parnelli Jones, AJ Foyt, John Surtees - Gurney was up there with the best. He scored five NASCAR wins at Riverside, four of them in a Wood Brothers-run Ford. He was fast in the Plymouth Barracuda Trans-Am cars. And he scored wins in Can-Am - one in his AAR-run Lola T70, and two in a McLaren M8D in 1970, as he bolstered a shell-shocked team who'd just lost their founder - another top driver/engineer, Bruce McLaren.
Over the past 15 years, it was this writer's honour to spend quite a few hours in the presence of Daniel Sexton Gurney, primarily at his very understated AAR works in Santa Ana, California. Dan couldn't have been warmer and kinder - traits he shared with his wife, Evi, their sons Justin and Alex, Dan Jr and Jimmy, and his longtime PA, Kathy Weida - but still there was that apprehension about meeting someone who was a hero to millions of motorsport fans. That privilege never got old.
Gurney was more humble than such a high-achiever has any right to be and he was as happy asking questions about the current IndyCar or F1 scene as he was answering enquiries about his matchless career.
Dan was a true gentleman who tried to avoid speaking ill of anyone, but his thoroughly reasoned philosophies left listeners in no doubt about his opinions, and it was hard not to believe he had double the brain capacity of the rest of us. And behind those professorial spectacles, his eyes would gleam with delight and enthusiasm when relating a funny story - often involving Bobby Unser, it seemed - and he had an anecdote for every one of the hundreds of photos that lined the corridors at AAR.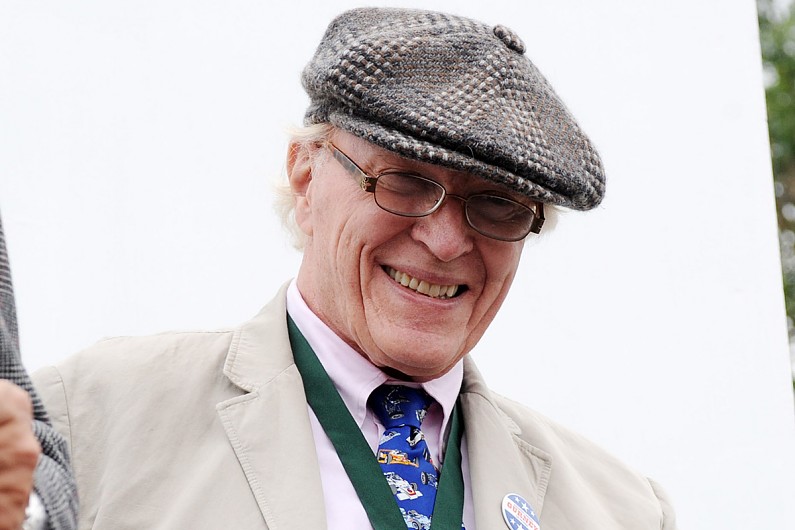 But what was truly mind-blowing about Gurney was that well into his 80s, he was still so enthusiastic about the present and future. As he'd reach the end of the corridor that was a tribute to his epic history in the sport as well as his best friends and rivals, his pace would quicken on the approach to his busy, noisy workshop.
While there were plenty of AAR's significant cars out the back, this little corner of Santa Ana was no mausoleum. Next to the mid-restoration GT40 in which he won Le Mans, for example, Dan's employees would also be constructing the legs for the SpaceX rocket. Truly, AAR has remained relevant for more than 50 years.
Legendary racing journalist Robin Miller long ago coined the term 'US motorsport's Mt. Rushmore,' for Gurney, Mario Andretti, AJ Foyt and Parnelli Jones. And while this tribute has focused primarily on Dan's often under-appreciated driving skills, what marks him out from the other three gentlemen on that fictional rock face was that his engineering skills and free thinking went beyond the mechanical knowledge and understanding that was part of any great driver's make-up in the 50s, 60s and 70s.
Had Gurney not blessed racing with his presence, it's easy to imagine him working alongside Clarence "Kelly" Johnson at Lockheed's Skunk Works, or heading up a team to develop a world-beating America's Cup yacht. Or both.
The news of Dan's passing is so sad, primarily because he was a gentleman and a gentle man. But we can at least find some comfort in the fact that his great legacy will be remembered for as long as cars are raced.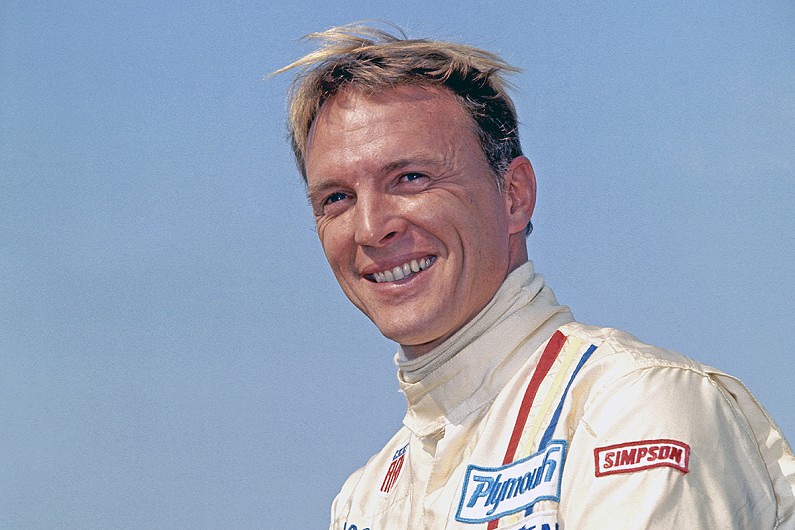 Autosport has produced a standalone special magazine to celebrate our 70th birthday. All current print subscribers will receive a copy for free. To order your copy of the 196-page Autosport 70th Anniversary issue, please go to: autosport.com/autosport70th