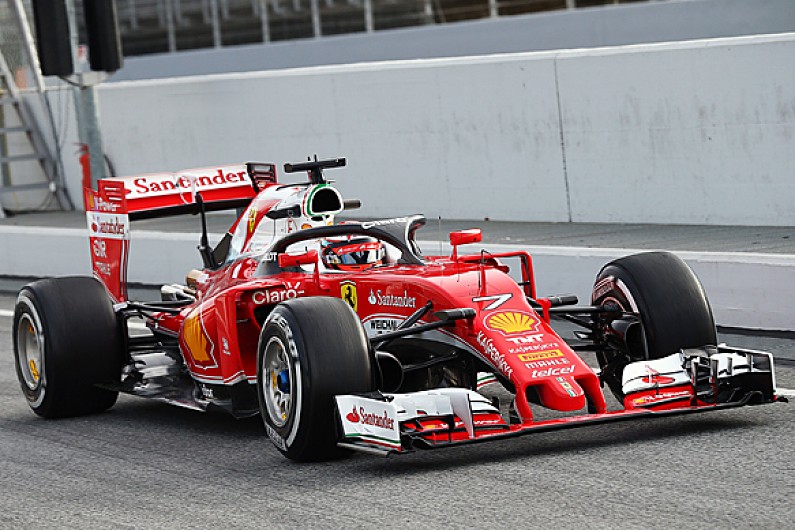 Kimi Raikkonen says there was "surprisingly little difference" in visibility after trying Ferrari's version of the halo head protection system during pre-season Formula 1 testing.
The Finn completed a single lap with the device fitted to his Ferrari SF16-H first thing on Thursday morning at Barcelona.
Ferrari had created the prototype, which it says is "pretty close" to what it expects the final shape to be, to get a driver's opinion on how it impacts visibility.
"It's slightly different view," said Raikkonen. "We're a bit limited in the front but I don't think it's the final version.
"There was surprisingly little difference.
"Yes, it was a bit limited in the front, but [the design] can change."
The design tested was produced by Ferrari itself and made of carbonfibre.
It was the team's own interpretation of the idea but only a temporary design and did not have a hinge that will feature on the final version for easier extraction.
The hinge's absence complicated how Raikkonen climbed into the cockpit when it was attached.
The FIA anticipates that if the design is accepted and adopted for 2017, it will be made of a lightweight material that will add around five kilograms to the weight of the car.
Ferrari is contemplating running the design again on Friday when Sebastian Vettel is in the car so it can gauge the German's opinion too.
Autosport has produced a standalone special magazine to celebrate our 70th birthday. All current print subscribers will receive a copy for free. To order your copy of the 196-page Autosport 70th Anniversary issue, please go to: autosport.com/autosport70th