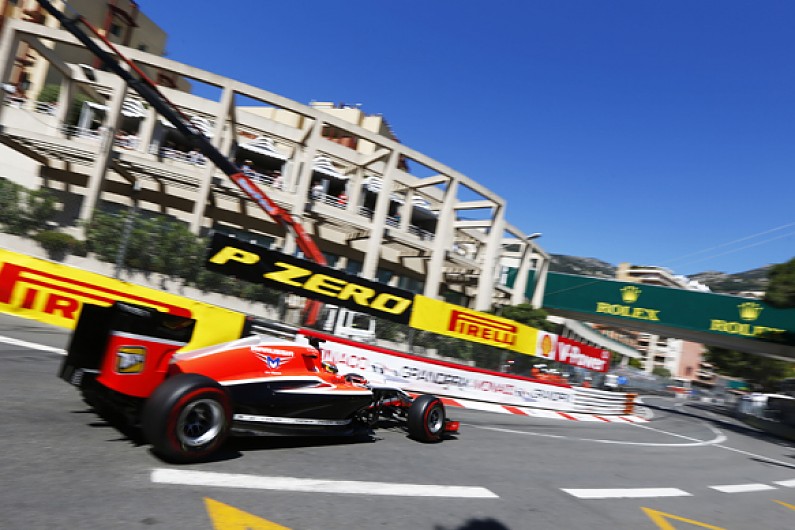 Jules Bianchi will start the Monaco Grand Prix from the back of the grid following a gearbox change on Sunday.
The Marussia driver had qualified 19th, but the team discovered an issue with his gearbox last night.
With the team worried that the problem could cause a retirement, it has elected to change the gearbox - which will give him a five place penalty.
Bianchi will line up 21st on the grid, because Marcus Ericsson has to start from the pit lane after being punished for his involvement in a qualifying crash with Felipe Massa.
Revised 2014 Monaco GP grid:                                         
                                              
Pos Driver                Team                
 1. Nico Rosberg          Mercedes            
 2. Lewis Hamilton        Mercedes            
 3. Daniel Ricciardo      Red Bull-Renault    
 4. Sebastian Vettel      Red Bull-Renault    
 5. Fernando Alonso       Ferrari             
 6. Kimi Raikkonen        Ferrari             
 7. Jean-Eric Vergne      Toro Rosso-Renault  
 8. Kevin Magnussen       McLaren-Mercedes    
 9. Daniil Kvyat          Toro Rosso-Renault  
10. Sergio Perez          Force India-Mercedes
11. Nico Hulkenberg       Force India-Mercedes
12. Jenson Button         McLaren-Mercedes    
13. Valtteri Bottas       Williams-Mercedes   
14. Romain Grosjean       Lotus-Renault       
15. Pastor Maldonado      Lotus-Renault       
16. Felipe Massa          Williams-Mercedes   
17. Esteban Gutierrez     Sauber-Ferrari      
18. Adrian Sutil          Sauber-Ferrari      
19. Max Chilton           Marussia-Ferrari    
20. Kamui Kobayashi       Caterham-Renault    
21. Jules Bianchi         Marussia-Ferrari    
22. Marcus Ericsson       Caterham-Renault