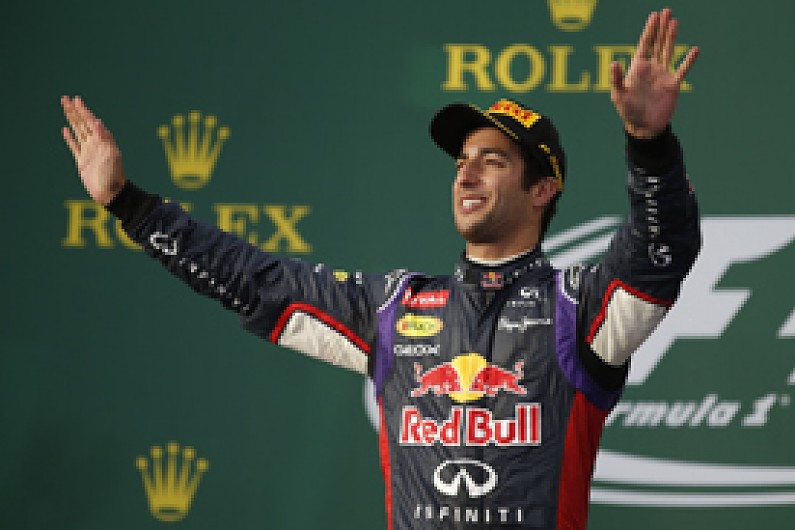 Daniel Ricciardo's Red Bull has been excluded from second place in Formula 1's 2014 season-opening Australian Grand Prix for fuel-flow irregularities.
The world champion team will appeal against the verdict.
The Australian delighted his home crowd by qualifying on the front row and finishing runner-up to Nico Rosberg's dominant Mercedes on his Red Bull debut.
But the stewards began an investigation post-race, after the FIA reported that Ricciardo's RB10 had "consistently" exceeded the fuel flow limit of 100kg/h mandated in the new 2014 regulations.
After several hours of deliberation, the stewards confirmed Ricciardo's exclusion from second place, which promotes McLaren rookie Kevin Magnussen to second and team-mate Jenson Button to third.
Ferrari's Fernando Alonso now takes fourth, Valtteri Bottas fifth for Williams, while Nico Hulkenberg is promoted into the top six.
His Force India team-mate Sergio Perez takes the final point for 10th spot, behind Kimi Raikkonen's seventh placed Ferrari and the two Toro Rossos of Jean-Eric Vergne and Daniil Kvyat.
Red Bull immediately notified the FIA of its intent to appeal the decision.
"Inconsistencies with the FIA fuel flow meter have been prevalent all weekend up and down the pitlane," said a Red Bull statement.
"The team and Renault are confident the fuel supplied to the engine is in full compliance with the regulations."
Revised result - 57 laps:

Pos  Driver             Team/Car                  Time/Gap
 1.  Nico Rosberg       Mercedes              1h32m58.710s
 2.  Kevin Magnussen    McLaren-Mercedes          +26.777s 
 3.  Jenson Button      McLaren-Mercedes          +30.027s 
 4.  Fernando Alonso    Ferrari                   +35.284s 
 5.  Valtteri Bottas    Williams-Mercedes         +47.639s 
 6.  Nico Hulkenberg    Force India-Mercedes      +50.718s 
 7.  Kimi Raikkonen     Ferrari                   +57.675s 
 8.  Jean-Eric Vergne   Toro Rosso-Renault      +1m00.441s 
 9.  Daniil Kvyat       Toro Rosso-Renault      +1m03.585s 
10.  Sergio Perez       Force India-Mercedes    +1m25.916s 
11.  Adrian Sutil       Sauber-Ferrari              +1 lap 
12.  Esteban Gutierrez  Sauber-Ferrari              +1 lap 
13.  Max Chilton        Marussia-Ferrari           +2 laps 
14.  Jules Bianchi      Marussia-Ferrari           +8 laps*  

* Not classified

Retirements:

     Daniel Ricciardo   Red Bull-Renault               DSQ
     Romain Grosjean    Lotus-Renault              43 laps
     Pastor Maldonado   Lotus-Renault              29 laps
     Marcus Ericsson    Caterham-Renault           27 laps
     Sebastian Vettel   Red Bull-Renault            3 laps
     Lewis Hamilton     Mercedes                    2 laps
     Kamui Kobayashi    Caterham-Renault            0 laps
     Felipe Massa       Williams-Mercedes           0 laps

Drivers' championship:

 1.  Nico Rosberg      25
 2.  Kevin Magnussen   18
 3.  Jenson Button     15
 4.  Fernando Alonso   12
 5.  Valtteri Bottas   10
 6.  Nico Hulkenberg   8
 7.  Kimi Raikkonen    6
 8.  Jean-Eric Vergne  4
 9.  Daniil Kvyat      2
10.  Sergio Perez      1

Constructors' championship:

 1.  McLaren/Mercedes      33
 2.  Mercedes              25
 3.  Ferrari               18
 4.  Williams/Mercedes     10
 5.  Force India/Mercedes  9 
 6.  Toro Rosso/Renault    6