Kimi Raikkonen has been excluded from qualifying for the Abu Dhabi Grand Prix following a front floor deflection test failure.
Representatives of his Lotus team were summoned to see the race stewards in Abu Dhabi after it was found that Raikkonen's car did not conform to the regulations.
The left hand side of the floor was found to deflect more than the permitted 5mm vertically when the testing load was applied to it.
Investigations by Lotus found that the issue had been caused by a broken floor due to kerb damage, but the stewards did not accept the explanation.
He has been excluded from qualifying but will be allowed to start from the back of the grid.
FIA REJECTS TEAM EXPLANATION
A statement issued by the FIA said: "The stewards heard the explanation of the team that the relevant part broke upon contact with a kerb.
"However, the stewards did not accept that the incident referred to constituted an accident, or excused failing the relevant test."
AUTOSPORT understands that the stewards did not accept the explanation, unlike when there was a similar situation with Romain Grosjean in Hungary, because it did not feel that the incident at Turn 3 where Raikkonen ran off the track and broke the floor should be considered as accidental damage.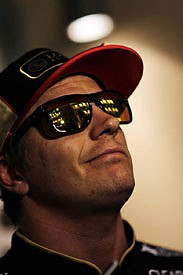 Raikkonen's penalty means that he will not be able to take up his best grid slot since the German Grand Prix in July, having qualified fifth.
"The team respects the stewards' decision," team principal Eric Boullier said. "No advantage was sought or gained in the incident and the relevant part has been replaced.
"We've seen what Kimi can do to work through the field when he needs to and we are going all out for the strongest result possible."
For the Abu Dhabi weekend Raikkonen has reverted to the shorter wheelbase version of the E21 after feeling that the longer version did not suit his driving style.
"We wanted to do it in previous races already but some races we could not," said the Finn. "I was told it was maybe an area where I can get the car like I want, so it has been OK.
"I think it doesn't need to be a big change, but if you get the front end as I like it, then I can drive normally and everything comes more to like it should be. At least here today was not too bad."
Revised Abu Dhabi Grand Prix qualifying results:

Pos  Driver               Team/Car               Time       Gap
 1.  Mark Webber          Red Bull-Renault       1m39.957s
 2.  Sebastian Vettel     Red Bull-Renault       1m40.075s  +0.118s
 3.  Nico Rosberg         Mercedes               1m40.419s  +0.462s
 4.  Lewis Hamilton       Mercedes               1m40.501s  +0.544s
 5.  Nico Hulkenberg      Sauber-Ferrari         1m40.576s  +0.619s
 6.  Romain Grosjean      Lotus-Renault          1m40.997s  +1.040s
 7.  Felipe Massa         Ferrari                1m41.015s  +1.058s
 8.  Sergio Perez         McLaren-Mercedes       1m41.068s  +1.111s
 9.  Daniel Ricciardo     Toro Rosso-Ferrari     1m41.111s  +1.154s
Q2 cut-off time: 1m40.989s                                    Gap **
10.  Fernando Alonso      Ferrari                1m41.093s  +0.620s
11.  Paul di Resta        Force India-Mercedes   1m41.133s  +0.660s
12.  Jenson Button        McLaren-Mercedes       1m41.200s  +0.727s
13.  Jean-Eric Vergne     Toro Rosso-Ferrari     1m41.279s  +0.806s
14.  Pastor Maldonado     Williams-Renault       1m41.395s  +0.922s
15.  Valtteri Bottas      Williams-Renault       1m41.447s  +0.974s
Q1 cut-off time: 1m41.884s                                    Gap *
16.  Esteban Gutierrez    Sauber-Ferrari         1m41.999s  +1.306s
17.  Adrian Sutil         Force India-Mercedes   1m42.051s  +1.358s
18.  Giedo van der Garde  Caterham-Renault       1m43.252s  +2.559s
19.  Jules Bianchi        Marussia-Cosworth      1m43.398s  +2.705s
20.  Charles Pic          Caterham-Renault       1m43.528s  +2.835s
21.  Max Chilton          Marussia-Cosworth      1m44.198s  +3.505s
22.  Kimi Raikkonen       Lotus-Renault          1m40.542s  +0.585s***

107% time: 1m47.741s
* Gap to quickest in Q1
** Gap to quickest in Q2
*** Excluded post-session