Valtteri Bottas will race alongside Pastor Maldonado at the Williams team during the 2013 Formula 1 season, the British squad confirmed on Wednesday.
The Finn was widely expected to land the racing drive after acting as Williams's third driver during the 2012 season, replacing Bruno Senna in opening practice for 15 of the 20 grands prix.
The 23-year-old from Nastola won the GP3 championship in 2011 and spent this year testing for Williams. He told AUTOSPORT earlier this week that he "needed" to go back to racing next year.
Bottas, who was signed by Williams in 2010, admitted on Wednesday that racing in Formula 1 will be a dream come true for him.
"It has always been my life-long dream to compete in the Formula 1 world championship," he said.
"To do so with one of the most legendary teams in the sport is incredibly special. I've really enjoyed my three years with Williams so far and feel very at home here so my goal was always to stay for 2013 and progress to a race seat."
Team boss Frank Williams said he was extremely excited about his line-up for the 2013 season.
"In Pastor and Valtteri we have two of the most exciting talents in motor racing and I'm especially excited about what 2013 can bring for Williams," he said.
"Pastor has always demonstrated remarkable pace and this year has seen him mature as a racing driver.
"Valtteri is quite simply one of the most talented young racing drivers I have come across and we expects great things from him in the future."
Williams also thanked Senna for his work at the team during the 2012 season. The Brazilian's future in F1 remains uncertain, with very few racing seats available.
"I would also like to take this opportunity to thank our departing driver Bruno Senna for his hard work over the past year and wish him the best of luck going forward," Williams said.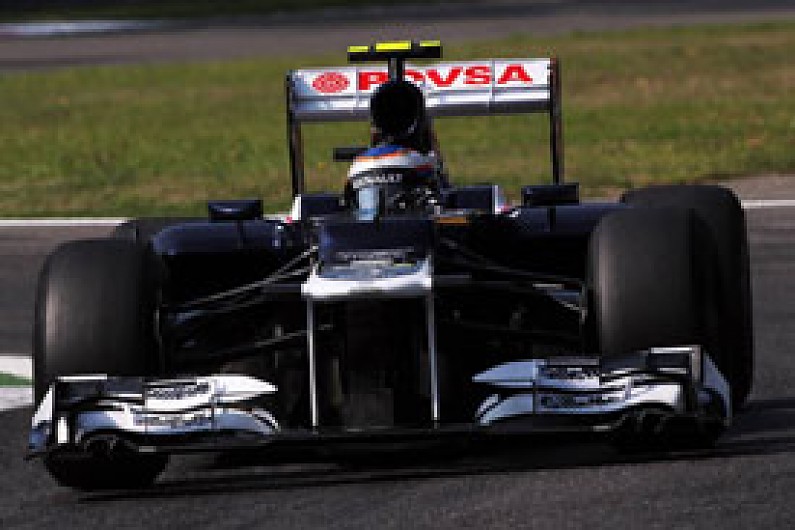 AUTOSPORT Says
F1 editor Edd Straw
Signing Valtteri Bottas is a genuine statement of intent by Williams. Having run him extensively over the past 12 months, Williams has no doubt of the very real potential that the Finn has to emerge as a top-line driver.
That this is regarded as more important to the team than retaining Bruno Senna, whose presence in the squad is reckoned to be worth around $14 million but who didn't do himself or the car justice with his performances in 2012, tells you everything you need to know about the ambition of the team.
Yes, the Finn is a rookie. While he has 15 free practice sessions under his belt, not to mention almost 2800kms of testing, the step from F3/GP3 level straight into F1 is a big one. But all of the evidence suggests that he's a driver with the ability to make the stride effectively.
Some within the team reckon that Bottas is fundamentally the quickest of this year's three drivers. That's saying something considering Pastor Maldonado's mercurial qualifying performances.
He's also a level-headed driver with the right level of intensity to combine speed with an intelligent approach, which, if the car is as good as Williams's recent progress suggests, could be potent.
Expect this move to pay off big-time for Williams over the next few years. Everything AUTOSPORT has seen of Bottas suggests that it will.
As for Senna, it's important not to underestimate the disadvantage he had of missing 28 per cent of the available free practice running this season. He's likely to be on the grid elsewhere in 2013 and if he can cut out the errors, he can still emerge as a reliable performer at this level, even if he doesn't share Bottas's ultimate potential.
2013 Formula 1 line-up so far

Red Bull-Renault      Sebastian Vettel  Mark Webber
Ferrari               Fernando Alonso   Felipe Massa
McLaren-Mercedes      Jenson Button     Sergio Perez
Lotus-Renault         Kimi Raikkonen    Romain Grosjean *
Mercedes              Lewis Hamilton    Nico Rosberg
Sauber-Ferrari        Nico Hulkenberg   Esteban Gutierrez
Force India-Mercedes  Paul di Resta     drive available
Williams-Renault      Pastor Maldonado  Valtteri Bottas
Toro Rosso-Ferrari    Daniel Ricciardo  Jean-Eric Vergne
Caterham-Renault      Charles Pic       drive available
Marussia-Cosworth     Timo Glock        Max Chilton *
HRT-Cosworth**        Pedro de la Rosa  drive available

* Drive not yet officially confirmed
** HRT team's future unclear