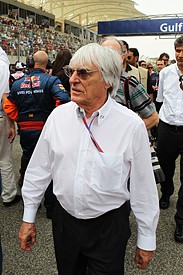 Formula 1 supremo Bernie Ecclestone says he cannot rule out German authorities taking further action against him over the Gerhard Gribkowsky affair - even though he insists he did nothing wrong.
Gribkowsky was jailed for more than eight years on Wednesday for taking £28 million in bribes during the sale of F1 - with Ecclestone implicated as a 'driving force' in the matter.
No charges have been levelled at Ecclestone, however, who told the courts that instead he was the victim of coercion by Gribkowsky.
Although Gribkowsky confessed to the courts last week that he had been bribed, Ecclestone has stood by his claims - and reckons there is no reason why he should be investigated further.
"They based their decisions on what he told them. I told them the truth," Ecclestone was quoted as saying by Reuters. "I think Mr Gribkowsky told them what he thought he had to tell them. I don't think I should [face further action] but you don't know, do you?"
Britain's tax authorities have been in contact with Ecclestone as a result of the matter too.
Speaking about that, Ecclestone said: "After all this, I'd have been surprised if they didn't contact me."