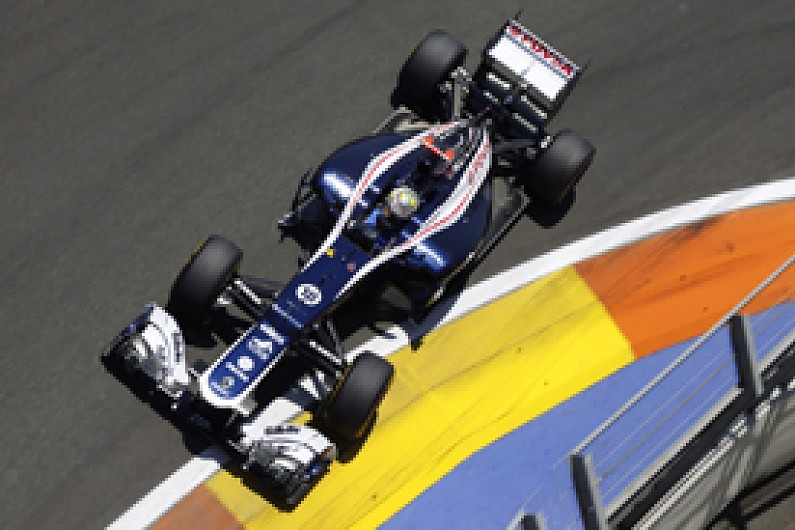 Pastor Maldonado has been given a post-race drive-through penalty for his collision with Lewis Hamilton during the European Grand Prix.
The Venezuelan made contact with the McLaren driver on the final lap when trying to take third place away from the Briton.
Hamilton had to retire from the race while Maldonado went on to finish in 10th position.
The penalty, with 20 seconds added to his final time, drops Maldonado to 12th position, with Williams team-mate Bruno Senna getting the final point.
Maldonado had said after the race that he thought Hamilton was to blame for the accident.
"I don't know why he drove like that," Maldonado said. "He was struggling too much with the tyres. He was completely lost and at that moment I was getting very good pace. He tried a very aggressive move on me."
Revised world Championship standings, round 8:                

Drivers:                    Constructors:             
 1.  Alonso       111        1.  Red Bull-Renault          176
 2.  Webber        91        2.  McLaren-Mercedes          137
 3.  Hamilton      88        3.  Lotus-Renault             126
 4.  Vettel        85        4.  Ferrari                   122
 5.  Rosberg       75        5.  Mercedes                   92
 6.  Raikkonen     73        6.  Sauber-Ferrari             60
 7.  Grosjean      53        7.  Williams-Renault           45
 8.  Button        49        8.  Force India-Mercedes       44
 9.  Perez         39        9.  Toro Rosso-Ferrari          6
10.  Maldonado     29       
11.  Di Resta      27       
12.  Kobayashi     21       
13.  Hulkenberg    17       
14.  Schumacher    17       
15.  Senna         16       
16.  Massa         11       
17.  Vergne         4       
18.  Ricciardo      2