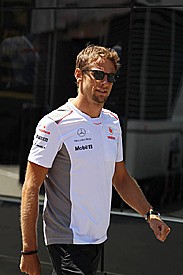 McLaren's Jenson Button and Williams driver mentor Alex Wurz have agreed to offer their advice to aspiring racers as part of the American SAFEisFast driver safety programme.
The pair have agreed to offer their time to become Online Driving Instructors, and respond to questions thrown at them on a host of topics - including racing, physical training and mental approach.
Button will answer questions posted to him later this month on the SAFEISFast.com website in the week building up to the British Grand Prix, while Wurz's responses will come in the weeks after the Silverstone event.
The SAFEIsFast project, which is supported by the FIA Institute, was created by the American Road Racing Drivers' Club (RRDC) and is aimed at helping young drivers further their career.
Bobby Rahal, who is president of the RRDC, said: "We are delighted to have two of the leading drivers in world motor sport to participate in this programme. Their advice and instruction will be invaluable for young drivers everywhere and we are particularly pleased to offer a platform for them to provide this through SAFEisFast.com."