Formula 1 experienced an eSports revolution in 2017, and its gaming involvement could leap forward again this year - as JONATHAN NOBLE explains
It is hard to believe that little more than one year ago, F1's only real interest in gaming appeared to be how much money it could get for licencing an official product. Cash in the bank was all that seemed to matter.
But some new world thinking from Liberty Media to embrace gaming, McLaren's World's Fastest Racer project, Fernando Alonso's eSports team management adventure and a brilliant bit of finger waving from F1's official F1 eSports Series winner in Abu Dhabi changed that.
Now for 2018, insiders talk of a much bigger and bolder officially backed F1 championship that could potentially include official involvement from all the current teams.
Andreas Schicker, head of eSports business development at Logitech, says eSports' standing in F1 changed immensely in 2017.
"The reputation of eSports was still the dodgy guy playing in the basement for eight hours and not coming out, which is not the truth," he told Autosport.
"So, if you have a personality like Fernando Alonso coming in, bringing all the shiny glamour that a normal guy wants to aspire to, that is really important for the whole industry.
"We were in a bit of Sleeping Beauty mode in terms of eSports before - but now everything is coming together to ignite the market."
The rush to embrace gaming last year is just the first step.
"In terms of F1, gaming has been lying semi-dormant for so long," said Logitech's Scott Anderson, who is head of global partnerships (sport) for the company.
"The sport's traditional fanbase may not have been the traditional fanbase for eRacing fans, but that is all changing now thanks to Liberty.
"The sport is waking up to a new generation. This so-called 'Airbnb' generation want short snippets, They don't have the attention span for a full F1 race, but they like the idea of racing.
"They like watching crashes, they like watching overtaking, the highlights, and you can really get that across on the virtual world.
"In fact, there are more crashes, there is more of the stuff they like, so it is really important."
eSports championship revamp

The success of last year's F1 eSports finale has empowered Liberty to push the project further.
Although nothing is set in stone yet, there is talk of a two-stage championship this year.
The season could start with prelimary rounds open to everyone to help select the cream of the crop, prior to a more heavily publicised championship from the middle of the year.
That second championship may well also have a format where the 10 current F1 teams get officially involved, and pick their own drivers to represent them ahead of the final.
So there is a very real scenario that a gamer playing at home right now could become Kimi Raikkonen's 'virtual' team-mate at Ferrari by the end of this season.
The ultimate endgame of F1's eSports push is stoking up interest for a new generation of fans.
Whereas Bernie Ecclestone once famously said he couldn't care about the youth market because they could not afford Rolex watches, Liberty is more open-minded.
BBC F1 commentator Jack Nicholls, whose own career began commentating on eSports races, believes online races can provide more human emotion than actual track action.
That was demonstrated by the response to inaugural F1 eSports champion Brendon Leigh's now infamous finger wagging when he thought a rival had unfairly cut a corner during a final-lap battle in Abu Dhabi.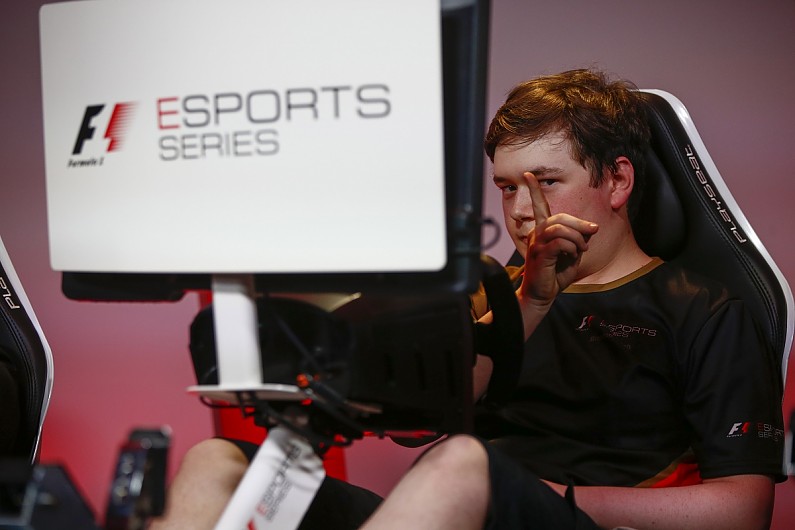 "The interesting thing is, whatever the platform of the racing, whether it is cars, bikes, games, it comes down to all sport, it comes down to the humans - and that is what we saw with Brendon," said Nicholls.
"Here was an 18-year old kid from Reading who had never been further than 200 miles from his home, racing this guy from Chile who is studying in Geneva.
"You saw their reactions, you are connecting with the drivers on that level. And that is what sport is based on.
"It is almost more accessible to watch a race like that, whereas in F1 they are behind a helmet and from this year a Halo.
"If you couldn't see the drivers you would have just been watching a game, but you were watching more than that, you were watching real people with real passion for the sport and for racing."
The gaming world has certainly noticed an upshift in interest in the wake of the F1 eSports success, and that could be good news for the wider motor racing community.
For Dan Hawkins, co-founder of online racing league Apex Online Racing, and who worked with F1 on last year's eSports effort, the last few months have featured huge change in the eSports racing world.
"Before the Abu Dhabi finale we had noticed people had started leaving the leagues because they were losing interest," he said at the end of last year.
"But afterwards they were itching to get back and our numbers probably went up by around 30%.
"The impact was huge. And with FOM taking it much more seriously, and clearly wanting to embrace the entire gaming industry, these are exciting times. This year is going to be massive."
New audiences

Industry expert (and team owner) Darren Cox, who helped build the PlayStation GT Academy and whose company Ideas + Cars helped launch McLaren's World's Fastest Gamer, is bullish too.
"Before the Abu Dhabi weekend we were in talks with some teams about what they could do in eSports, and then on the Monday afterwards the phone just wouldn't stop ringing," he said.
"It really was a game changer weekend - and now there are lots of discussions going on about what we can do. And I also know that Le Mans, IndyCar and NASCAR are looking at things too.
"One of the key things to say about this is that it really does plug a gap for potential audiences.
"I was dragged to racetracks by my parents and indoctrinated that way, and then after that began playing games.
"Now kids find their sports first through gaming, and that is where their first connection comes from.
"There was an academic report in the United States that concluded the reason why soccer was getting such acceptance there was all down to Fifa [gaming franchise].
"School kids in Alabama knew who the leftbacks at West Ham were, for example, so the process of knowing a sport is completely different.
"We have to grab hold of that opportunity, and make that connection to get hold of the hard-to-get millenial audience."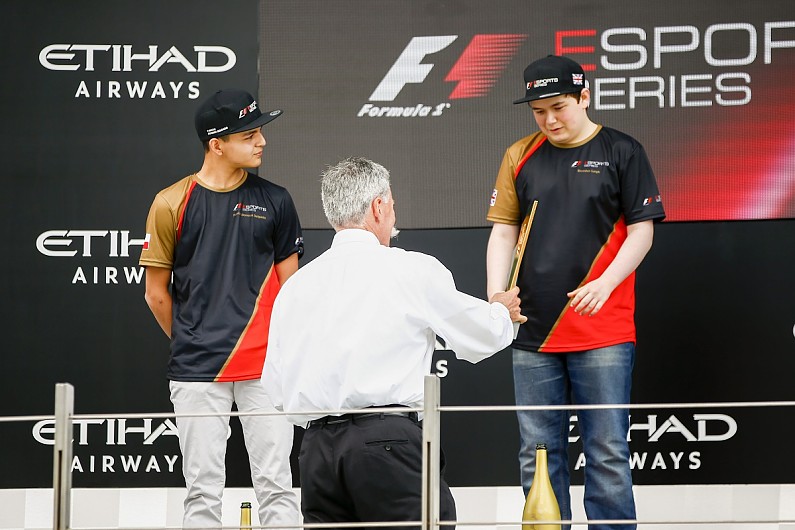 There is also an outside chance that having more official involvement in gaming could help unlock a new generation of drivers too.
Avid gamer Lando Norris is on the verge of making it in to F1, and it may well become the case that grand prix racing's future drivers all had their first touch of racing through a computer.
Logitech's Kristian Tear, head of EMEA, said: "If you think about the beatiful thing with eSports, there is no entry barrier. Everybody can play. If you make the sport accessible it means a lot.
"Look at football and how countries like Brazil can be so strong. You can play barefoot, you can play on the beach, so for us it will be about how do we get wheels in as many homes as possible and begin this process.
"It was a good first year for sure, but there is more to come. This is the very, very beginning of things. Now it seems that everyone wants to be a part of it."
Access even more news on Autosport.
Register for free to increase your monthly limit from 15 to 25 stories - or subscribe today and get unlimited access.
Get unlimited news for £1
Full access to our news and in-depth Autosport Plus features - all in an ad-free enviroment.
Subscribe for just £1
Access 10 extra stories
A quick upgrade and you'll boost your monthly news limit instantly - for free.
Register for free