Audi DTM driver Mike Rockenfeller suffered a fractured metatarsal in his left foot as a result of his and Gary Paffett's accident in the second Norisring race on Sunday.
Rockenfeller was wiped out innocently by Paffett's damaged Mercedes C63 at the Turn 1 hairpin shortly after a mid-race restart.
Paffett had attempted to overtake Audi driver Jamie Green on the run to the first corner, but the back end of his car stepped out and spat him into the Armco barrier on the inside of the track, spinning him out of control towards the first corner and into Rockenfeller's RS5.
The Mercedes impacted square-on with the driver-side door of Rockenfeller's car, which fell off after the hit.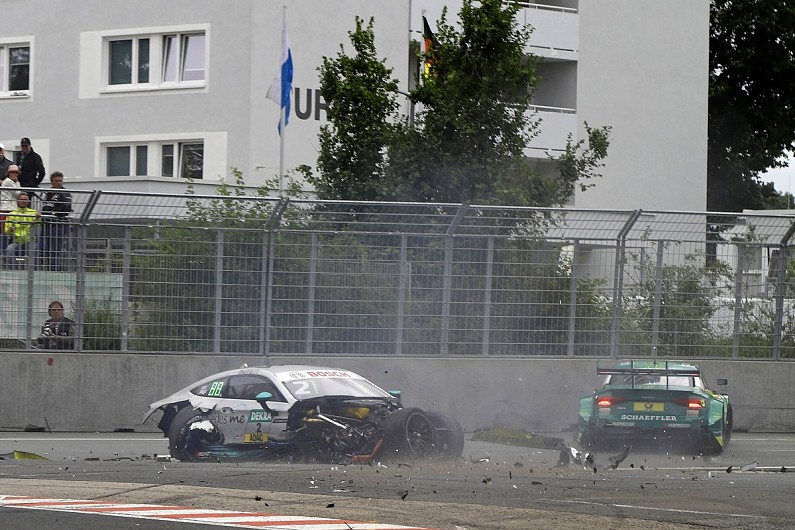 Rockenfeller and Paffett were both taken to the Klinikum Sud hospital in Nuremberg as a precaution, while the race was red-flagged to clear the damage from the accident.
Paffett complained after the crash of arm pain but was only bruised, while Audi said on Sunday evening that Rockenfeller's fifth metatarsal had been fractured in his left foot.
"We're happy that nothing more serious happened to Mike and also to Gary in this really horrible-looking accident," said Audi's head of motorsport Dieter Gass.
"This proves once again how high the safety standards are in the DTM."
The next DTM round takes place at Moscow Raceway in three weeks.