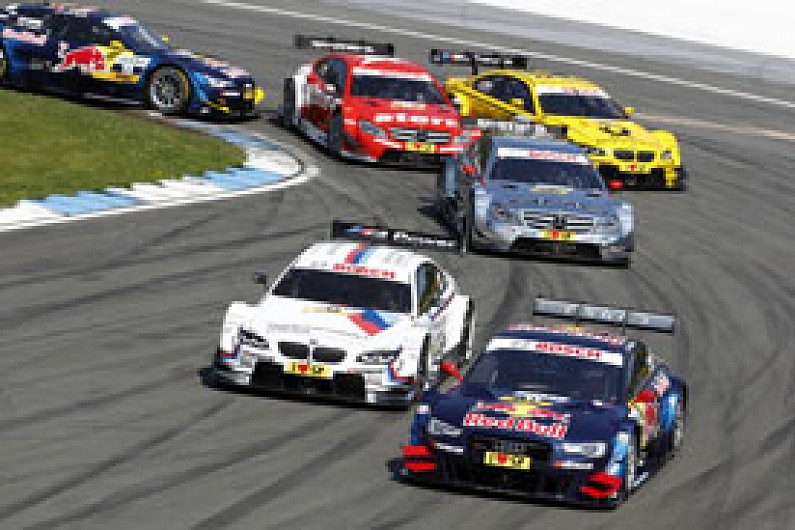 The DTM's new DRS will have virtually no impact on overtaking at Brands Hatch this weekend, according to Audi driver Mattias Ekstrom.
The Formula 1-style passing aid made its debut at Hockenheim earlier this month along with option tyres and was a factor in creating 45 on-track position changes compared to the 13 experienced in the previous race at the track.
But at just 1.2 miles, and without a straight of the length of Hockenheim's, two-time DTM champion Ekstrom believes that pit strategy will have a greater bearing on the race result.
"The straight probably isn't long enough to use DRS for overtaking," Abt Sportsline driver Ekstrom told AUTOSPORT. "The top speed you reach is much slower than at Hockenheim.
"You can still use DRS and you can still make up time, but probably not enough to overtake somebody.
"So we will probably spend a bit of extra time on set-up for qualifying because starting near the front is very important there."
Mercedes driver Gary Paffett, who won at Brands Hatch last year, believes that DRS-assisted overtaking moves will still be possible into Paddock Hill bend.
"On the Indy circuit you're always trying to force a mistake from the car ahead, he told AUTOSPORT.
"And if you can do that into Clearways and make them run wide or even just get on the power a little bit late, then you can definitely get past with DRS into Paddock, even around the outside.
"If you even just get a nose alongside into Paddock then you can use the inside to get the place into Druids, and that wasn't really possible last year."