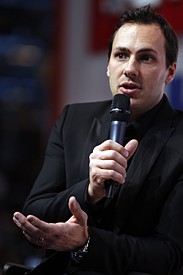 Gary Paffett says his 2012 DTM title defeat was painfully frustrating given that he felt it was his best ever season-long performance.
The HWA Mercedes driver narrowly missed out on claiming a second title when BMW's Bruno Spengler pulled back a 40-point mid-season deficit to win the Hockenheim finale and the championship.
"It was very frustrating," said Paffett on the AUTOSPORT Stage with KX at AUTOSPORT International.
"I have finished second a few times, but it was different last year because other times I have been the one catching up.
"I was leading from the start of the season until the start of the last race. I was three points ahead of Bruno, but he got ahead at the start and that was it. He won and I lost the championship."
Having only fallen at the last hurdle, Paffett reckons that last year was his best ever season in the DTM since making his debut in 2003.
"I felt it was my greatest season in terms of performance, even better than when I won the title [in 2005].
"I felt good in the car and it was a real shame to miss out because we really deserved to win it."