With Audi and Porsche departing, and the championship falling into line with the ACO and pegging back LMP2 performance, the 2009 American Le Mans Series was always going to be far lower-key than 2008's thrilling three-way, ten-car, prototype shoot-out.
Sebring and Petit Le Mans apart, it was down to the Highcroft and De Ferran teams to provide the entertainment as they went head to head for the title in Acura's radical LMP1 car. And although this contest could not match the spectacle of the previous year, it was at times even more intense at the front - with both crews knowing that their rival was sure to capitalise if they were anything less than perfect.
Highcroft's David Brabham and Scott Sharp ultimately beat De Ferran's Gil de Ferran and Simon Pagenaud, although the Brazilian still marked his (second) retirement from the cockpit with a win in his farewell race at Laguna Seca.
With the Dyson Lola-Mazda alliance in a learning season, Adrian Fernandez and Luis Diaz stormed to eight LMP2 wins and a dominant division title - allowing the Fernandez Racing team to depart on a high as a lack of sponsorship forced its closure at the end of the championship.
GT1 finally fizzled out, but the best racing of all was to be found in GT2, where BMW and Corvette joined the traditional Porsche versus Ferrari battle. Flying Lizard Porsche's Jorg Bergmeister and Patrick Long had a knack of getting to the front when it mattered, and their six wins ensured they beat Risi Ferrari's Jaime Melo and Pierre Kaffer to the class crown. But the individual races were often epics - regularly featuring five or six car lead battles and frenetic touring car style door banging.
Round 1 Sebring 12 Hours, 18-21 March
The Audi and Peugeot diesels drop by and dominate, with the former's R15 taking a remarkable victory on its racing debut following a close race-long battle. Ultimately some typical Allan McNish heroism makes the difference and helps clinch the Scot and co-drivers Dindo Capello and Tom Kristensen a hard-earned victory over the best of the Peugeots.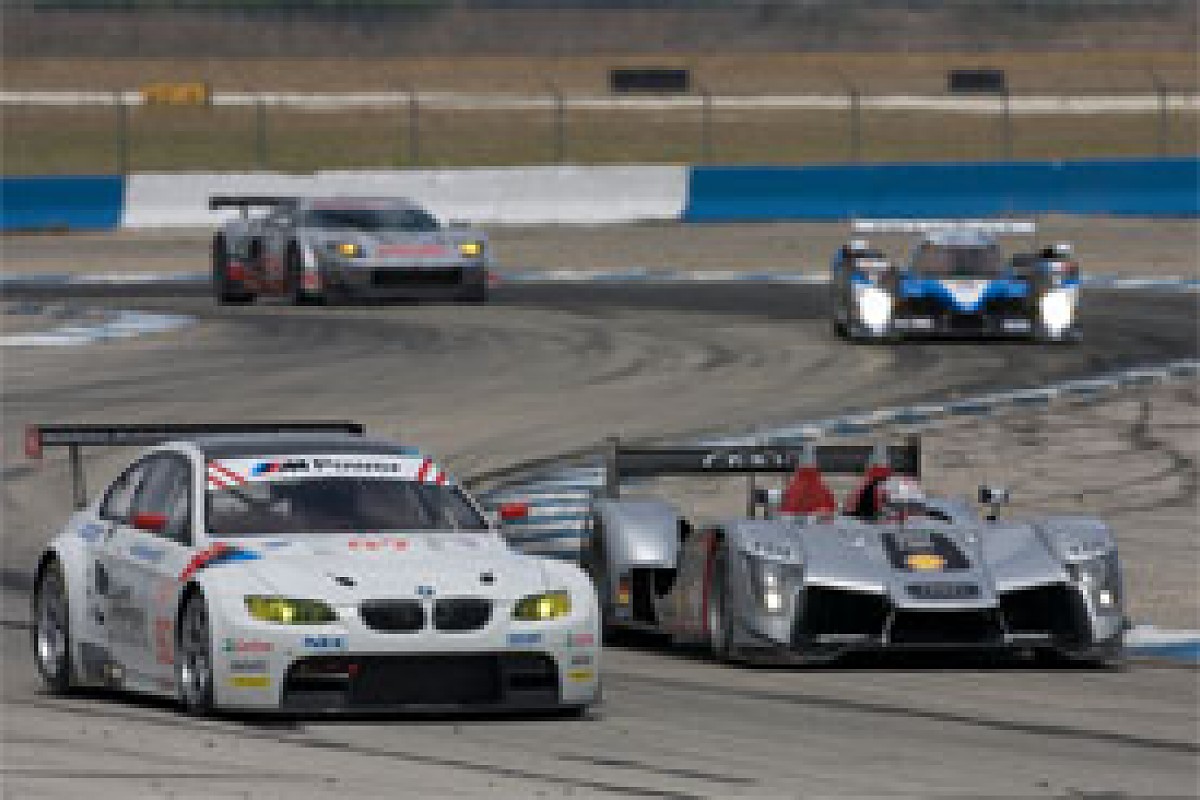 The Audi R15 and Peugeot 908 work their way past the BMW M3 and Ford GT-R during the 12 Hours of Sebring © LAT
Acura had taken a shock pole thanks to the De Ferran team's guest driver Scott Dixon, but the ARX-02s do not have the race pace to threaten the diesels. The De Ferran car holds on to fourth until retiring with a suspension breakage - while crucially the slightly slower Highcroft car manages to complete enough of the race to be classified fifth in LMP1 despite mechanical problems of its own. Fernandez easily wins LMP2 as Dyson has a few teething troubles with its new Lola-Mazdas.
GT2 is dominated by Risi Ferrari, as a pair of incidents restrict the #45 Flying Lizard Porsche to fourth.
Round 2 St Petersburg, 2-4 April
An all-time low of 17 cars on the grid shows that the ALMS is in a for a tough season away from its blue riband events. With the diesels back in Europe, the LMP1 Acura teams monopolise the lead battle as expected. De Ferran pulls away at first, but Highcroft is able to make its driver change under yellow and sneaks ahead, going on to dominate as electrical glitches delay its rival.
Although both Dyson cars finish this time, Fernandez has the pace to win LMP2 again in second overall.
A series of early dramas for all their rivals - including Risi - allow Flying Lizard Porsche's Bergmeister and Long to win GT2 fairly comfortably in the end.
Round 3 Long Beach, 16-18 April
De Ferran finally takes its first overall win, as a spectacular battle with Highcroft swings in its favour when the latter is penalised for a pitstop infringement.
Fernandez continues its LMP2 winning streak, although Dyson is making very rapid progress and leads the opening stint.
Flying Lizard also extends its advantage in GT2, battling with the Farnbacher Loles Porsche and then pulling clear once its rival has suspension problems. Risi loses its pole for a technical violation but Kaffer and Melo recover to second by the end.
Round 4 Miller Motorsports Park, 15-17 May
De Ferran makes an early break as the fast-starting Intersport Lola holds up Highcroft in the early stages, and once up to second Brabham and Sharp cannot close the gap Pagenaud and de Ferran have established.
The threat from Dyson grows again in LMP2, but Fernandez remains unbeaten - getting ahead of Butch Leitzinger and Marino Franchitti by saving fuel and eschewing a late splash-and-dash, then fending off the charging Lola-Mazda at the end.
Bergmeister and Long dominate GT2 for Flying Lizard, and this time third is Risi's limit following a startline incident.
Round 5 Lime Rock, 17-19 July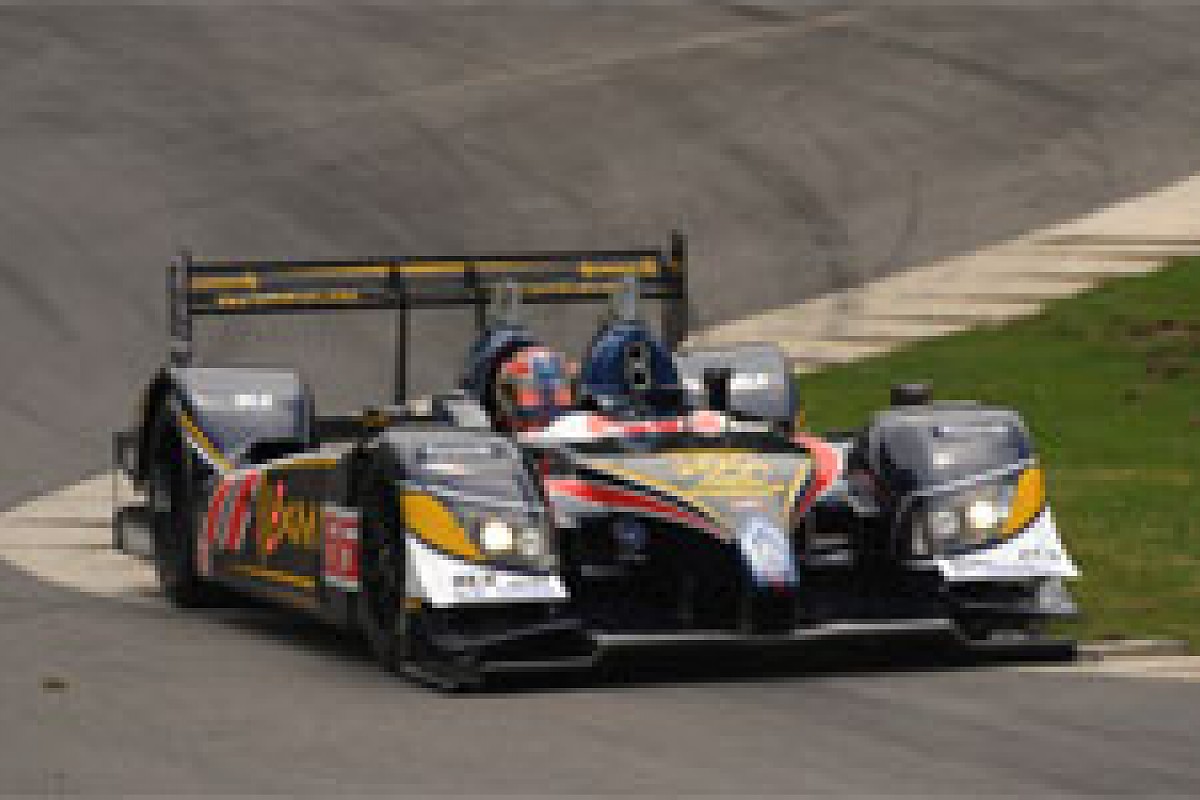 Simon Pagenaud bounds through the chicane at Lime Rock in the de Ferran Acura © LAT
Battle resumes after the Le Mans break with another super-tight dice between De Ferran and Highcroft - and a third straight win for de Ferran and Pagenaud as Brabham loses his lead with a late-race puncture.
Dyson finally turns its pace into an LMP2 victory, Leitzinger and Franchitti ending Fernandez's winning streak but the Mexican squad still salvaging second despite a stop to change a shock absorber.
Flying Lizard takes a fourth straight GT2 win, this time a full lap ahead of the Risi duo.
Round 6 Lexington, 7-9 August
A fourth straight win for De Ferran as contact with a GT2 car delays Highcroft in the early stages and leaves its Acura with bodywork damage that hampers its performance for the rest of the day.
Fernandez is set for third in LMP2 behind the leading Dyson Lola-Mazda and Cytosport's newly-acquired Porsche, until a stunning late pitstop under yellow puts the Acura in front and secures another win for Fernandez and Diaz.
Flying Lizard's dominant GT2 record continues, and this time the improving pace of the Rahal Letterman BMWs and the arrival of the new GT2 Corvettes mean Risi is restricted to fifth.
Round 7 Elkhart Lake, 14-16 August
Highcroft halts De Ferran's winning run at Road America, where Brabham holds off de Ferran after a late yellow sets up a very close finale. Fernandez gets ahead of Dyson in the pits and takes another step towards the LMP2 crown.
Rahal Letterman's BMWs prove well-suited to the majestic track and totally dominate in GT2. With the best of the Corvettes third, title rivals Flying Lizard and Risi are squeezed back to fourth and fifth, finally ending the former's streak of victories.
Round 8 Mosport Park, 28-30 August
A thrilling opening stint sees Jon Field's Intersport Lola and Franchitti's Dyson Lola-Mazda challenging the Acuras at the front before both hit trouble. The De Ferran car is also in the wars and needs additional stops to top up low gearbox oil, so Highcroft breaks away and wins again.
The consistent Fernandez Acura triumphs once more in LMP2 and claims the class title in the process.
Corvette takes its first GT2 win as Jan Magnussen and Johnny O'Connell comes out on top of a huge battle with the Risi Ferrari. A tangle with a BMW limits Flying Lizard to fifth place.
Round 9 Petit Le Mans, Road Atlanta, 24-26 September
The Peugeot 908 leads the field during a wet Petit Le Mans at Road Atlanta © LAT
Audi and Peugeot return for the series' second big event - and again dominate. Peugeot looks unbeatable in practice and qualifying, but an incredible performance by McNish in the wet opening stint gives Audi a big early lead.
Improving conditions, cautions and strategies bring the top three back together again, and then McNish loses the lead when he spins down to third under yellow as the rain returns. It soon becomes a huge storm, leading to a red flag and the eventual abandonement of the race three hours later, with victory going to Peugeot's Stephane Sarrazin and Franck Montagny - who had earlier been two laps down after staying on wets too long.
Behind the diesels, the title fight takes several dramatic twists. Highcroft's car is destroyed when Sharp clips a GT2 car and is launched into a ferocious crash in practice, but an astounding effort gets the team in the field in a new chassis. As Brabham and Sharp come through from last to sixth, the De Ferran car gets as high as second early on before the lapped Field crashes into it. A later trip into the wall by third driver Dixon leaves the team 48 laps down by the end - and means that Highcroft only needs to be a classified finisher in the finale to win the title.
Franchitti, Leitzinger and Ben Devlin emerge from a field of walking wounded to win LMP2 despite an early electrical problem. Their team-mates Guy Smith and Chris Dyson are nine laps ahead but running an experimental bio-butanol fuel so cannot score.
GT2 is unfeasibly close all weekend, until a canny early switch to wets gives Risi a clear victory and keeps Kaffer and Melo's title hopes alive as the #45 Flying Lizard Porsche is only fifth.
Round 10 Laguna Seca, 8-10 October
As Highcroft adopts a 'safety first' policy, De Ferran goes flat-out for the required victory, which it achieves despite pressure at various stages from the bio-butanol Dyson Lola-Mazda, the Corsa hybrid Zytek and the flying Fernandez Acura, with de Ferran only just resisting his old Champ Car rival at the flag.
Highcroft clinches the LMP1 championship with third - despite a few scares including a hit from Oliver Gavin's Corvette as the GT2 driver triggers a pile-up at a restart.
Flying Lizard becomes GT2 champion when the Risi Ferrari gets damage in traffic. The Porsche team then rounds its dominant year off by winning again, but only after a ferocious, door-banging, battle with Magnussen's Corvette that sees the Dane nudge Bergmeister wide at the last corner then get fired into the wall as the latter fights back.
Five key moments
1. De Ferran retires from fourth place at Sebring with broken suspension and does not cover enough distance to be classified as a points-scorer. That gives Highcroft a crucial early points cushion.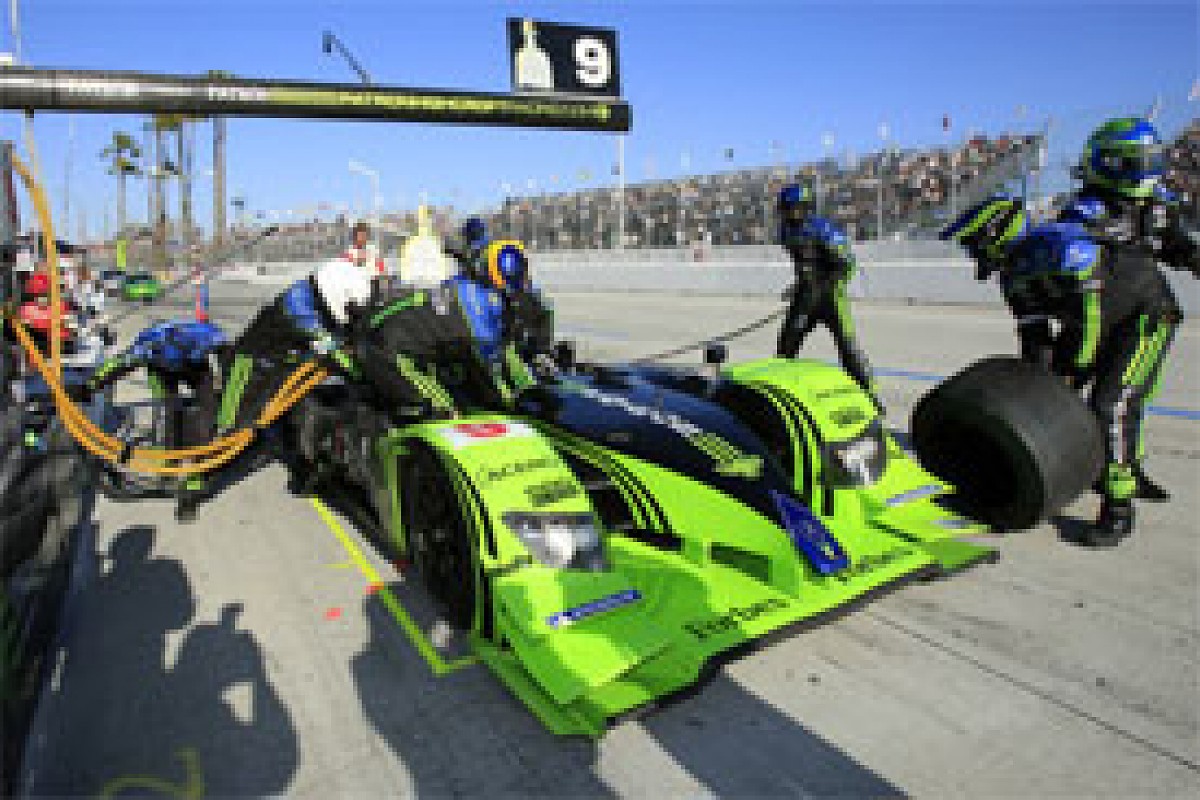 David Brabham pits the Highcroft Acura during the race at Long Beach © LAT
2. Highcroft is given a contentious penalty for its refueller not wearing correct safety equipment during a Long Beach pitstop, allowing De Ferran to start its winning run.
3. After four straight De Ferran wins reduces the championship gap between the two to just nine points, Highcrofts stops the rot by winning at Elkhart Lake.
4. Sharp destroys the Highcroft Acura in a horrifying practice crash at Road Atlanta... but the team stuns everyone - itself included - by building up a new car in time for the race.
5. Jon Field outbrakes himself and collects the De Ferran Acura during the Petit Le Mans - delaying the title contender enough to ensure that Highcroft finishes ahead and takes a commanding points lead to the finale.