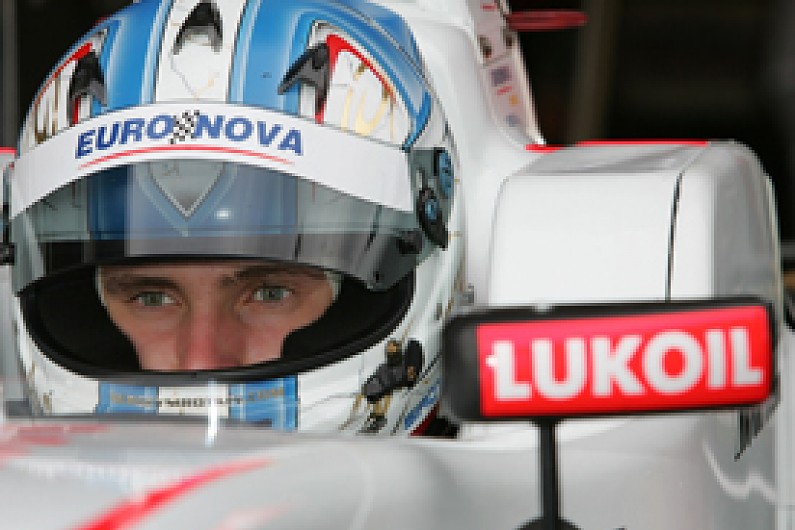 Sergey Sirotkin says that his decision to take the jump from Formula Abarth to Auto GP aged just 16 was down to a desire to learn how to drive a powerful single-seater early in his racing career.
The youngest driver in the championship, he caused a stir on Friday morning by topping the opening practice session of the season, the Russian appearing at ease in the 500bhp Lola-Zytek.
Sirotkin has a busy season in store as he is competing in both Auto GP and the Italian Formula 3 championship. He believes he can learn twice as much as a result.
"I am doing Auto GP because it has the power and Formula 3 because of the high-level of downforce," explained Sirotkin, who is also studying to sit exams in April.
The Moscow-based driver's close links to Euronova were forged in Formula Abarth in 2011. Sirotkin started the season with Jenzer Motorsport but, after sensing he wasn't realising his potential with the Swiss team, switched to Vincenzo Sospiri's outfit, at which he delivered the European title.
Vincenzo is a great person to lead a team, said Sirotkin of the 1995 International F3000 champion. "I don't think there is any need now to have a driver coach. It is useful when you're starting out, but a serous driver can learn by himself through working closely with a team."
The son of an aerospace components manufacturer, Sirotkin takes a keen interest in technical matters, "although, not relating to aeronautics." Backing is provided by Lukoil, and Sirotkin is aware of the opportunities that might be presented by the forthcoming Russian Grand Prix, scheduled to be held at Sochi in 2014.
"It is too early to talk even about 2013, we have to see how this season goes, but I think from testing and this free practice session that things are going to go well."
An added incentive to perform comes from Ferrari's continued to support of Italian F3. A Formula 1 test with the Italian constructor is on offer to the 2012 Italian F3 champion and, attractively for Sirotkin, the season's top rookie.
Although times from the first Auto GP practice session are inconclusive, as drivers were running on a hard compound Kumho tyre on a 'green' track, Sirotkin is encouraged by the result.
"This morning, I found the track was very slippery, particularly at Parabolica, but I was quickest through the last sector and in Ascari. In the first part of the lap here, I was only a few hundredths of a second from the top. But what is the first sector? It's really just a straight and a chicane."