IndyCar delays introduction of alternative aero kits until 2013
| | |
| --- | --- |
| By Sam Tremayne | Sunday, August 14th 2011, 17:42 GMT |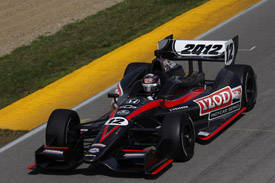 The IndyCar Series has delayed the introduction of alternative aero kits for its next-generation Dallara chassis until the start of the 2013 season..
The concept of new chassis, which was given its maiden test run at Mid-Ohio one week ago, included the provision to use different aero kits during the season.
IndyCar CEO Randy Bernard said that in the interests of keeping costs down - and grid numbers up - the idea will be postponed for the 2012 season, when the next-generation chassis is officially adopted by the IndyCar Series. Each car will therefore use the Dallara kit - which has already began testing - next year.
"The most important thing we can do as a series is look at what is in the best interest of both our long and short term," Bernard said.
"It is important that we maintain a high car count next year by ensuring we have cost containment for our teams. We must listen to our team owners and try to help."
Bernard insisted he remained a staunch advocate of the aero kit concept, and added that he believed there would be enough new developments to keep the action exciting in 2012.
"I'm the biggest advocate of the aero kit and I feel this is by far the best decision for our series," he explained.
"The 2012 season will be exciting with the debut of our new car as we focus on relevancy and technology with engine competition, turbochargers and direct injection among other things."
The new Dallara chassis was fitted with a prototype road course bodykit designed by the Italian constructor when it ran at Mid-Ohio last week. Teams are scheduled to receive their first chassis in mid-December.
Lotus and Chevrolet are among the organisations that had committed to producing aero kits for 2012.