Ed Carpenter and Sarah Fisher Hartman IndyCar teams merge for 2015
| | |
| --- | --- |
| By Mark Glendenning | Saturday, August 16th 2014, 21:38 GMT |
Two of IndyCar's single-car teams have confirmed plans to merge at the end of 2014, with Ed Carpenter Racing and Sarah Fisher Hartman Racing set to become a multi-car entity.
The new team, which will be called CFH Racing, will be based in the current SFHR headquarters in Indianapolis.
Many major details regarding staffing and technical partners are yet to be finalised, including the engines - ECR currently uses Chevrolet power, while SFHR is aligned with Honda.
Carpenter earned his first IndyCar win at Kentucky in 2011 while driving for Fisher before setting up his own team the following season to become the series' only owner-driver.
His decision to share his seat with Mike Conway this year has so far delivered three victories for ECR, and Carpenter said that the merger would allow the team to perform at an even higher level.
"We had success together in 2011 and have always had a great relationship," he said. "I look forward to getting started with the new team and adding to the success that each of our teams have had in the past.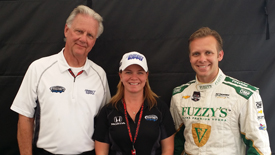 "There will be a lot to do to bring the two teams together, but we feel that it is a great opportunity for all of us to grow and reach new heights of success."
Fisher, whose team is in its third year with driver Josef Newgarden, said that the move would be to the long-term benefit of both teams.
"The merger of the two teams is a big-picture plan," she said.
"Working with Ed and capturing that first win was a foothold for our team, and I look forward to the many more that come as a result of bringing all the parties together."