Milwaukee IndyCar: James Hinchcliffe leads first practice session
| | |
| --- | --- |
| By Mark Glendenning | Saturday, August 16th 2014, 16:19 GMT |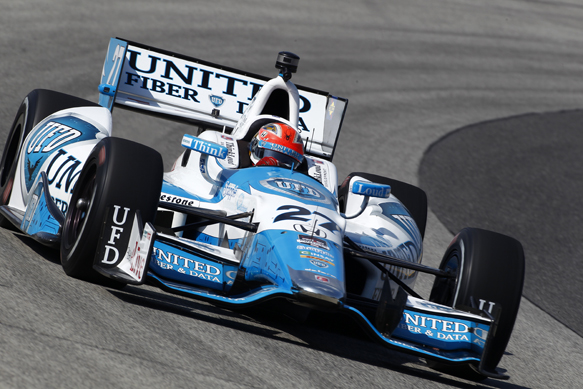 James Hinchcliffe opened IndyCar's race weekend at Milwaukee by setting the fastest time in the opening practice session on Saturday.

The Canadian moved to the top 15 minutes into the session with a fastest speed of 165.451mph (22.0851s) and his time was still unbeaten when the chequered flag waved three-quarters of an hour later.

Ganassi's Ryan Briscoe came closest ahead with a best lap average of 165.349mph (22.0987s), leaving Hinchcliffe's Andrett team-mate Ryan Hunter-Reay in third.
Josef Newgarden and Tony Kanaan completed the top five.


What was US racing's best era?
With rookies and drivers outside the top 10 in points having an extra set of tyres to work with, those in championship contention left it to others to rubber the track in before venturing out of the pitlane.
Points leader Will Power made his first appearance with 30 minutes remaining and finished up 11th fastest, three places ahead of team-mate and closest title rival Helio Castroneves.

The morning was interrupted twice by yellow flags; the first coming 38 minutes into the session for a track inspection, and the second being prompted by Carlos Munoz experiencing an electrical problem and coming to a stop on the track five minutes before the end.
Pos Driver              Team/Engine        Time      Gap      Laps
 1. James Hinchcliffe   Andretti/Honda     22.0851s            31 
 2. Ryan Briscoe        Ganassi/Chevy      22.0987s  +0.0136s  24 
 3. Ryan Hunter-Reay    Andretti/Honda     22.1075s  +0.0224s  44 
 4. Josef Newgarden     Fisher/Honda       22.1894s  +0.1043s  50 
 5. Tony Kanaan         Ganassi/Chevy      22.1955s  +0.1104s  26 
 6. Scott Dixon         Ganassi/Chevy      22.2604s  +0.1753s  39 
 7. Juan Pablo Montoya  Penske/Chevy       22.3241s  +0.2390s  29 
 8. Carlos Munoz        Andretti/Honda     22.3336s  +0.2485s  32 
 9. Mikhail Aleshin     Schmidt/Honda      22.3484s  +0.2633s  38 
10. Simon Pagenaud      Schmidt/Honda      22.3557s  +0.2706s  36 
11. Will Power          Penske/Chevy       22.3770s  +0.2919s  43 
12. Charlie Kimball     Ganassi/Chevy      22.4153s  +0.3302s  48 
13. Graham Rahal        Rahal/Honda        22.4320s  +0.3469s  48 
14. Helio Castroneves   Penske/Chevy       22.4910s  +0.4059s  35 
15. Justin Wilson       Coyne/Honda        22.5014s  +0.4163s  40 
16. Takuma Sato         Foyt/Honda         22.5037s  +0.4186s  42 
17. Sebastien Bourdais  KV/Chevy           22.5771s  +0.4920s  39 
18. Marco Andretti      Andretti/Honda     22.5932s  +0.5081s  25 
19. Sebastian Saavedra  KV/Chevy           22.6405s  +0.5554s  43 
20. Ed Carpenter        Carpenter/Chevy    22.7251s  +0.6400s  38 
21. Carlos Huertas      Coyne/Honda        22.8352s  +0.7501s  53 
22. Jack Hawksworth     Herta/Honda        22.8909s  +0.8058s  47 
                                                                  
All drivers use Dallara chassis