Nurburgring DTM: Paul di Resta leads dry/wet practice for Mercedes
| | |
| --- | --- |
| By Andrew van Leeuwen | Saturday, August 16th 2014, 09:31 GMT |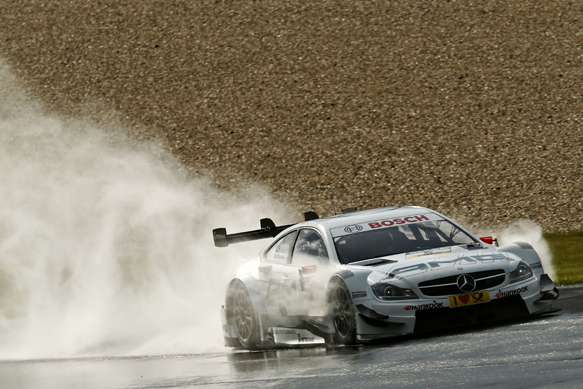 Paul di Resta was the pacesetter across two weather-affected DTM practice sessions at the Nurburgring.
Timing was key for the Mercedes driver, who set his best - a 1m23.578s - just seconds before the heavens opened halfway through the second session.
With the track quickly becoming drenched, di Resta's time was unbeatable in the second half of the session.
Audi man Timo Scheider was another driver to make a late improvement before the rain, a 1m23.587s leaving him second, while points leader Marco Wittmann was third fastest for BMW.
Antonio Felix da Costa was fourth quickest, ahead of Timo Glock, Adrien Tambay, Nico Muller and Daniel Juncadella.
In the morning's first session, the conditions were reversed. While the majority of the session was held in wet or damp conditions, the track did dry sufficiently to see some slick tyre running in the closing minutes.
As a result, the quick laps all came right at the end, with Glock fastest from Robert Wickens, Pascal Wehrlein and Gary Paffett, all four having improved on their very last laps of the session.
Christian Vietoris was fifth, ahead of Muller and di Resta, whose time put five Mercedes drivers inside the top seven.
Practice one:

Pos  Driver                  Team/Car        Time       Gap
 1.  Timo Glock              MTEK BMW        1m27.454s
 2.  Robert Wickens          HWA Mercedes    1m27.712s  +0.258s
 3.  Pascal Wehrlein         HWA Mercedes    1m28.321s  +0.867s
 4.  Gary Paffett            HWA Mercedes    1m28.691s  +1.237s
 5.  Christian Vietoris      HWA Mercedes    1m28.693s  +1.239s
 6.  Nico Muller             Rosberg Audi    1m28.797s  +1.343s
 7.  Paul di Resta           HWA Mercedes    1m28.830s  +1.376s
 8.  Antonio Felix da Costa  MTEK BMW        1m28.882s  +1.428s
 9.  Miguel Molina           Abt Audi        1m28.981s  +1.527s
10.  Maxime Martin           RMG BMW         1m28.990s  +1.536s
11.  Martin Tomczyk          Schnitzer BMW   1m29.038s  +1.584s
12.  Daniel Juncadella       Mucke Mercedes  1m29.044s  +1.590s
13.  Marco Wittmann          RMG BMW         1m29.121s  +1.667s
14.  Vitaly Petrov           Mucke Mercedes  1m29.305s  +1.851s
15.  Augusto Farfus          RBM BMW         1m29.387s  +1.933s
16.  Timo Scheider           Phoenix Audi    1m29.664s  +2.210s
17.  Mike Rockenfeller       Phoenix Audi    1m29.980s  +2.526s
18.  Jamie Green             Rosberg Audi    1m30.234s  +2.780s
19.  Joey Hand               RBM BMW         1m30.244s  +2.790s
20.  Bruno Spengler          Schnitzer BMW   1m30.825s  +3.371s
21.  Edoardo Mortara         Abt Audi        1m32.673s  +5.219s
22.  Mattias Ekstrom         Abt Audi        1m32.697s  +5.243s
23.  Adrien Tambay           Abt Audi        1m32.769s  +5.315s

Practice two:

Pos  Driver                  Team/Car        Time       Gap
 1.  Paul di Resta           HWA Mercedes    1m23.578s
 2.  Timo Scheider           Phoenix Audi    1m23.587s  +0.009s
 3.  Marco Wittmann          RMG BMW         1m23.594s  +0.016s
 4.  Antonio Felix da Costa  MTEK BMW        1m23.602s  +0.024s
 5.  Timo Glock              MTEK BMW        1m23.629s  +0.051s
 6.  Adrien Tambay           Abt Audi        1m23.640s  +0.062s
 7.  Nico Muller             Rosberg Audi    1m23.752s  +0.174s
 8.  Daniel Juncadella       Mucke Mercedes  1m23.768s  +0.190s
 9.  Bruno Spengler          Schnitzer BMW   1m23.830s  +0.252s
10.  Mattias Ekstrom         Abt Audi        1m23.872s  +0.294s
11.  Pascal Wehrlein         HWA Mercedes    1m23.984s  +0.406s
12.  Christian Vietoris      HWA Mercedes    1m24.059s  +0.481s
13.  Mike Rockenfeller       Phoenix Audi    1m24.092s  +0.514s
14.  Jamie Green             Rosberg Audi    1m24.115s  +0.537s
15.  Edoardo Mortara         Abt Audi        1m24.118s  +0.540s
16.  Maxime Martin           RMG BMW         1m24.191s  +0.613s
17.  Martin Tomczyk          Schnitzer BMW   1m24.248s  +0.670s
18.  Miguel Molina           Abt Audi        1m24.250s  +0.672s
19.  Augusto Farfus          RBM BMW         1m24.250s  +0.672s
20.  Gary Paffett            HWA Mercedes    1m24.268s  +0.690s
21.  Robert Wickens          HWA Mercedes    1m24.334s  +0.756s
22.  Vitaly Petrov           Mucke Mercedes  1m24.636s  +1.058s
23.  Joey Hand               RBM BMW         1m25.191s  +1.613s