Australian GP: Mercedes clarifies team orders for Hamilton, Rosberg
| | |
| --- | --- |
| By Jonathan Noble | Saturday, March 15th 2014, 10:58 GMT |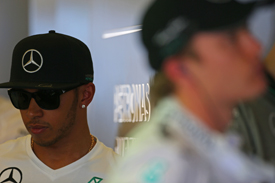 Mercedes' Lewis Hamilton and Nico Rosberg will be free to battle for Australian Grand Prix victory, following lengthy team orders clarification talks ahead of the 2014 Formula 1 opener.
With Mercedes heading into the campaign as the team to beat, there has been intense focus on the potential rivalry between its drivers if they are left battling alone at the front.
In a bid to head off any controversies, Rosberg and Hamilton sat down with senior management in Melbourne for talks so everyone was clear about the circumstances under which team orders may be imposed in the future.
But rather than battles being pegged back, Mercedes is adamant that the pair - who qualified first and third in Melbourne - are clear to push each other hard.

Exclusive interviews: Hamilton and Rosberg on their 2014 battle
Rosberg, who was left furious during the Malaysian GP last year when he was ordered to stay behind Hamilton, said: "I can already tell you now that there will be battles between Lewis and I - and that is important for the TV and for everybody, for us as a team.
"That is exciting. That is racing. That is what we are here for - but within certain limits.
"Of course you cannot go crazy as team-mates because at the same time we are both racing for Mercedes, we are both here to have great success for Mercedes and help bring Mercedes to the front of F1.
"We need to find the fine line. We have done so in preparing for it and really going through it in detail so we know what to expect.
"That is the most important thing, once everyone knows what they have to do it is good to go."
WOLFF: GOOD DISCUSSION
Mercedes motorsport boss Toto Wolff was confident that both drivers were aware of their duties to the team, and reckoned there would not be any problems.
"I think it is very difficult to establish parameters, like whoever has the first corner stays in front," he said. "We are not doing this.
"We had a long discussion with Paddy [Lowe] and the boys and it was a very good discussion.
"Everyone gave his opinion about how we should proceed, and we defined that our main competitors are the other teams.
"We need to make sure that as a team we are running strongly. Then it is to be decided on a case-by-case [basis] with what is going on with the cars. It could go one race in one direction and the other race in another direction.
"We have discussed it and found a solution which is acceptable to Nico and Lewis and to the team."