Chevrolet and Honda to build IndyCar aero kits for 2015
| | |
| --- | --- |
| By Mark Glendenning | Friday, December 13th 2013, 09:03 GMT |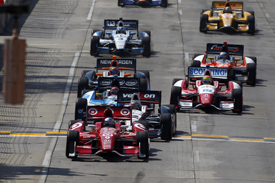 IndyCar has confirmed that Honda and Chevrolet will produce the first round of aero kits for 2015, with the possibility of additional manufacturers or third-party vendors supplying kits in '16.
Concerns over costs and ongoing discussions about the final regulations surrounding the body kits resulted in their rollout being delayed several times before the series announced its latest plans to debut the kits in 2015 back in May.
Since then, it had been widely expected that the current manufacturers would be responsible for supplying the initial kits, and both companies have already been working on their designs for some time.

Archive - July 2010: IndyCar announces aero kit plan
An IndyCar statement said that the kits, which will be mounted onto the current Dallara chassis, will allow for greater visual differentiation between the cars as well as providing a platform for the achievement of higher speeds.
In adopting the kits, the cars will also incorporate the name given by the supplier.
"Aero kits will improve the diversity of the fan experience and renew technical engagement, while providing a controlled cost structure," said Derrick Walker, IndyCar's president of competition and operations.
The rules will allow for the addition of kits from any further engine manufacturers that might join the series, as well as any third party vendors that become eligible to become an approved supplier.
Both of the existing manufacturers will be able to upgrade their kits at the same time, with any modifications to be approved through homologation.
AERO KIT COSTS CAPPED
Areas that will be open to development by aero kit manufacturers include sidepods, the engine cover, the oval front wing main plane, and endplates, while the series is still considering potential modifications to the undertray to reduce the potential for the car being launched in an accident.
Entrants will be limited to no more than two aero kits during a season, with the current Dallara-supplied aero package qualifying as one of the kits. Dallara will also continue to supply several standard aero components.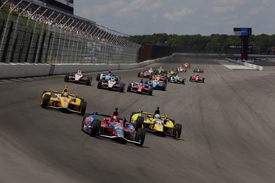 Teams will be permitted to use more than one aero kit during practice for the Indianapolis 500, but will be required to race the kit that they used in qualifying.
Costs of the kits will be limited to $75,000, inclusive of all components, but excluding fasteners. An update kit for 2016 will cost no more than $15,000.
On-track testing of the kits is scheduled to begin on October 6 2014, and will end on January 18 2015.
Six days of pre-production testing have been approved, with each supplier limited to a maximum of two cars.
Engine mileage accrued during the tests will not count toward the overall 10,000-per year allocation, or engine count.