Dmitry Suranovich excluded from Monaco GP3 race after Conor Daly's terrifying accident
| | |
| --- | --- |
| | Saturday, May 26th 2012, 20:23 GMT |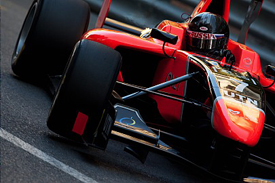 Dmitry Suranovich has been excluded from the results of the second Monaco GP3 race, in which he played a part in Conor Daly's terrifying accident.
Suranovich was defending 11th place from Daly on lap 11 when they made contact on the way out of the tunnel. Daly's ART-run Lotus car flew into the air and struck the top of the debris fence on the harbour side before landing violently the right way up at the chicane. Daly was unhurt.
Manor driver Suranovich had already lost his car's rear wing and had ignored the officials' black and orange flag, leading to him losing his 11th place in the results.
Prior to the crash, Daly had charged up from 23rd place to 12th.
"Car was mega and I was having so much fun," Daly wrote on his Twitter feed. "But can't help it when other people do stupid stuff.
"Thank you GP3 for having a safe car. That was definitely the biggest crash I've ever had."