Kimi Raikkonen's form a surprise, says Alain Prost
| | |
| --- | --- |
| By Jonathan Noble | Saturday, May 26th 2012, 07:19 GMT |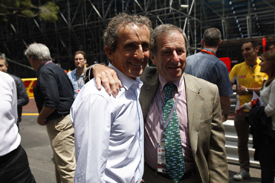 Alain Prost has admitted that he has been surprised by the strong form that Kimi Raikkonen has shown on his return to Formula 1 this year.
Raikkonen decided on an F1 comeback this season after two years with mixed results in the World Rally Championship - and has already produced two podium finishes.
But it is not just Raikkonen's speed that has left Prost impressed, because the Frenchman also likes the way the 2007 title winner approaches his job, and does not pretend to like aspects of being an F1 driver that he dislikes.
"It is a surprise a little bit when I see him," said Prost, who is attending the Monaco Grand Prix in his role as an ambassador for Renault. "His mentality, his attitude, it is very good. It is still Kimi, and I like him because at least he is not playing a game. We all know him, and if you accept him, his positive attitude and the way he drives is not bad.
"It is not that easy to come back after two years, even if he has done some rallying. It is quite impressive, and he could be quite a surprise this year."
While Raikkonen's comeback is going to plan, Michael Schumacher's return has not been such a success – and Prost admitted that he had reservations even before the seven-time champion got back in the cockpit.
"I was never 100 per cent positive because he has won so much and also because I suppose he really wanted to be world champion again, which was maybe a little bit too high a target," Prost said.