Danica Patrick not missing the Indianapolis 500 as she focusses on Charlotte
| | |
| --- | --- |
| By Diego Mejia | Friday, May 25th 2012, 20:57 GMT |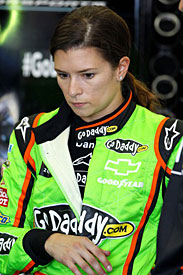 Danica Patrick says she does not miss being at Indianapolis in May - for the first time in seven years - but insists that the door remains open for her to return to the Indy 500 in the future.
This weekend Patrick will be on double NASCAR duty at Charlotte, where she will compete in Saturday's Nationwide Series event before starting her third Sprint Cup Series race, driving for Stewart-Haas Racing, which took owner Tony Stewart to the 2011 title.
While at Indy her former team Andretti Autosport has enjoyed a solid month, placing three cars in the top four starting positions, Patrick will face an uphill struggle in Sunday's 600-mile race, the longest in NASCAR, starting from 40th on the grid.
Patrick says despite a tough transition into the stock car world, she is happy to have made the move full-time and being at Charlotte at this time of the year.
"Last weekend when I had time to watch qualifying I was thinking about Indy and I was thinking about how I would be doing if I was there," said Patrick. "I can imagine every thought that is going through all those drivers' heads.
"I didn't feel like I wanted to be there. I just had a lot of memories of what was going on. I'm very pleased that I'm in NASCAR. I'm very happy; I'm having a lot of fun and I'm looking forward to a different challenge this weekend."
While Patrick remains totally focused on her NASCAR career, she repeated that she has not ruled out a return to Indianapolis to compete in the 500.
"I was ready to leave IndyCar. I wanted to be here," said Patrick. "When you are not missing something, longing for something you don't really think about it that much. It's like that girlfriend you didn't want to have anymore. You don't think about her anymore...
"Indy, I have lots of great memories from there and probably the part of me that doesn't feel quite as longing for it is that there is still a chance that I could do it again. It's not gone."
Thr former IndyCar star has hinted at running a full Cup Series schedule in 2013, which may eventually make her Indy return less likely for the time being, unless she decides to run the Indy-Charlotte double, like her boss Stewart did with some success back in 1999 and 2000.