DW12 tweaked to reduce chances of becoming airborne during Indy 500
| | |
| --- | --- |
| | Thursday, May 24th 2012, 12:00 GMT |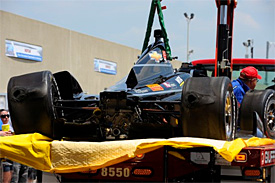 Dallara will make minor modifications to the DW12 IndyCar chassis before Carb Day practice at Indianapolis to further reduce the chances of cars becoming airborne in accidents.
The Italian company ascertained that the lateral stiffness of the new IndyCar's underwing supports had contributed to cars lifting slightly off the ground in some of the crashes during qualifying weekend. Preventing cars taking to the air in accidents was a key safety goal in the design of the new generation IndyCar chassis.
Dallara is therefore cutting slots into the cars' underwing supports in order to "lessen lateral and maintain vertical stiffness", according to an IndyCar statement, which added that the incidents that had concerned Dallara occurred on three occasions when a car "impacted the SAFER Barrier with the car's centreline parallel to the wall."
IndyCar's vice president of technology Will Phillips praised Dallara's prompt action.
"Dallara's response has been immediate to try and make sure all improvements possible could be implemented in time for the race - all credit to them," said Phillips.
"Feedback from observers, safety officials and drivers enabled Dallara to have the data very quickly, and their solution and response is a great example of how safety comes first."