Toyota unveils new 2013 NASCAR Sprint Cup Camry
| | |
| --- | --- |
| By Diego Mejia | Wednesday, May 23rd 2012, 08:35 GMT |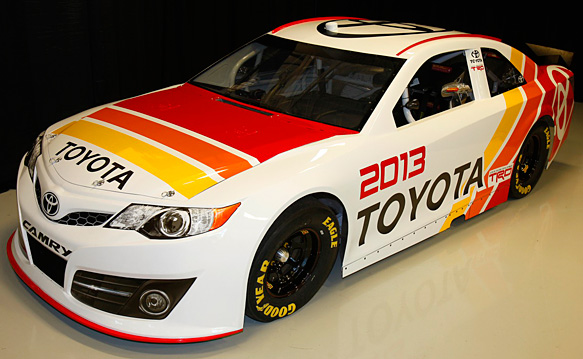 Toyota will campaign a revised Camry in next year's Sprint Cup Series, the manufacturer unveiling the new bodywork that completes the 2013 car line-up.
For the seventh consecutive year since joining NASCAR's elite series, the Japanese brand will use its most popular model,, which has been the best-selling car in the US for the last ten years.
However, the new car will resemble more the actual street vehicle, in line with what the other three manufacturers have introduced after working with NASCAR to make their race cars more relevant to what their clients buy from dealers.
The 2013 Camry features a new front grille, rear bumper and a different line on the side panels. Other parts as the roof and the deck-lid, for example, are standard for all four manufacturers in order to keep the parity from an aerodynamic standpoint, having studied all four bodies in the wind tunnel.
"It's important for NASCAR's product to be relevant," said NASCAR president Mike Helton said. "We get the fact that it's important for Toyota to relate its involvement in motorsports to what they do and benefit what their business goals are.
"We have worked very hard to maintain the elements so they will maintain their excitement and be involved with us."
Last week Chevrolet announced they will run the SS Model, while Ford will run a revised Fusion and Dodge a more aggressive looking Charger.