Chevrolet to run new SS in NASCAR Sprint Cup next year
| | |
| --- | --- |
| By Diego Mejia | Friday, May 18th 2012, 08:25 GMT |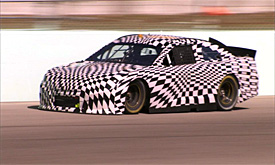 General Motors will run the Chevrolet SS in the Sprint Cup Series from 2013, the manufacturer announced Thursday.
Chevrolet will use NASCAR's elite series to launch its new SS model, which will only be on sale in the US until later this year.
Next season, new bodies will be introduced in the Cup as manufacturers have moved to try to make their race cars look more like their road vehicles.
The Chevy road car featuring the Super Sport badge will be a V8-powered, rear-wheel-drive sedan, the first on offer in the US in 17 years. The SS has been used by the bow-tie brand since the 1960s with the Impala and has also been used in both the Corvette and Camaro models.
"As a passionate race fan and performance enthusiast, I am thrilled that Chevrolet will deliver a true rear-wheel-drive NASCAR race car in the SS that is closely linked to the performance sedan that will be available for sale," said Mark Reuss, president of GM North America.
"The Chevrolet SS is a great example of how GM is able to leverage its global product portfolio to deliver a unique performance experience that extends beyond the track. I am personally looking forward to driving it."
While Ford will continues to run the Fusion and Toyota the Camry model, the cars' looks have been heavily revised relative to the current one.
Despite having yet to announce its teams for 2013 following Penske's move to Ford, Dodge is set to run a revised Charger.