Michael Schumacher defends Q3 strategy after not setting a time to save tyres
| | |
| --- | --- |
| By Andrew van Leeuwen | Saturday, May 12th 2012, 14:30 GMT |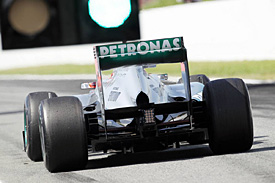 Michael Schumacher has backed his decision not to complete a timed lap in the third part of qualifying for the Spanish Grand Prix.
The German was one of three drivers to not complete a flying lap in Q3, opting instead to save a set of tyres for the race.
As a result, Schumacher will start from ninth position, two spots behind his Mercedes team-mate Nico Rosberg.
"We wanted to save tyres this afternoon, which dictated how we managed Q3," he said.
"I did not complete a timed lap, and now I still have the choice of what tyres to start on tomorrow. Equally, I thought it was better to start from ninth on the grid than eighth, and be on the clean side."
According to Schumacher, the decision to not run could well be crucial in what is shaping up to be a tight race.
"It's clear that some teams have taken a step forward after the three-week break, and I would also say that the field is now even closer together.
"It's going to be a tight race tomorrow, although the forecast says it should be cooler, and it will be interesting to see if our choices today pay off at the end of the race."