Formula 1's stock market flotation set to go ahead in Singapore
| | |
| --- | --- |
| By Matt Beer and Gerhard Kuntschik | Saturday, May 5th 2012, 09:03 GMT |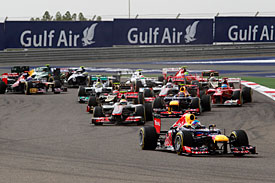 Formula 1's stock market flotation remains on course to go ahead in Singapore, according to a board member of the sport's commercial rights holding company Delta Topco.
Austrian Peter Braback-Letmathe has been tipped to run the flotation. As well as being on the board of Delta Topco, he is chairman of the board and a former CEO of food giant Nestle.
In an interview with Austrian newspaper Salzburger Nachrichten, Braback-Letmathe confirmed that progress towards the flotation was ongoing, and he was in line for a major role.
"We intend to float F1 in Singapore soon," said Braback-Letmathe. "Some roadshows and presentations have taken place already.
"It's true that I said I would be ready to chair the board in a non-operative function. If F1 goes public it will be important to have an independent chairman."
Braback-Letmathe added that Delta Topco was also aware that it would have to be ready for a post-Bernie Ecclestone future.
"We all hope that Bernie stays healthy for a long time and continues. I am impressed by his efforts," said the Austrian.
"However, it is the duty of a board to secure the succession. At Nestle, I always made sure that any executive board member could be replaced within 24 hours. This would also apply to F1 when it becomes a public company.
"We have to consider the future long-term, with new structures, new individuals, possibly both."