Force India ordered to pay costs in Aerolab court case
| | |
| --- | --- |
| By Jonathan Noble | Friday, May 4th 2012, 13:32 GMT |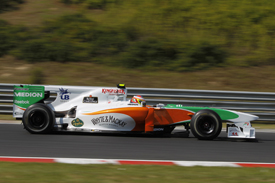 Force India has been ordered to pay £650,000 costs in relation to its legal action against Caterham, Mike Gascoyne and Aerolab over potential copyright infringement.
Back in March, the High Court awarded Force India £21,000 in damages after ruling that parts of its 2010 car had been used in the design process of that year's Lotus contender.
However, the judge did not agree with claims that Lotus, as Caterham was formerly known, had 'systematically' copied the Force India car - and instead ruled that the infringements had taken place simply as a short cut in the design process.
In a hearing on Friday, the court ruled that Force India will have to pay Caterham technical chief Mike Gascoyne, who was exonerated of any wrongdoing in the original case, costs on a full indemnity basis from November 2011 and costs on a standard basis before then - which amounts to roughly £400,000.
Furthermore, the 1 Malaysia Racing Team, under which Lotus raced, was awarded costs on a similar basis - but this was estimated to be in the region of £250,000.
Force Indisa said its application for permission to appeal "was postponed with a further hearing expected in the coming weeks".
"The appeal relates to the 25,000 Euros of damages that Aerolab and Fondtech were ordered to pay Sahara Force India Formula One Team for misuse of confidential information.
"The interim costs payments awarded to Mr Gascoyne and 1 Malaysia Racing in today's ruling are more than covered by funds already provided by Sahara Force India Formula One Team as security for costs pending the outcome of the case," said a statement.