HRT 'more calm' ahead of Spanish GP after skipping Mugello test
| | |
| --- | --- |
| By Thomas Mallett | Friday, May 4th 2012, 11:23 GMT |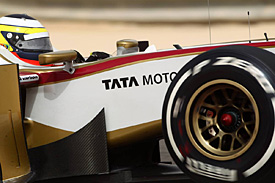 HRT is approaching its home race in Spain in much calmer state, after spending the time since the Bahrain Grand Prix setting up camp at its new Madrid base, according to team boss Luis Perez-Sala.
The Spanish squad elected to skip this week's Mugello test in favour of moving into its new headquarters, and to introduce and upgrade package before the Spanish Grand Prix at Barcelona.
Perez-Sala is confident that HRT will be better prepared for the rest of the season, with performance and reliability being high on the list of priorities.
"After the first four races we're heading into this one with much more calm. We arrive more organized and better prepared after having rested a bit this week," he said.
"We're bringing some updates to Montmelo which we hope will take us one step forwards in terms of performance and reliability."
Pedro de la Rosa is also confident that missing the Mugello test was the right thing to do as it gives the team its first opportunity to fully dismantle and reassemble the car since the start of the season.
"Not going to Mugello wasn't an easy decision but it was important to go to the headquarters for the first time and work calmly because it's the first time my car is in Europe," he said.
"For the first time the mechanics have had the time to dismantle the car, build it and assemble it."