Chevrolet accepts IndyCar's ruling on Honda engines
| | |
| --- | --- |
| By Mark Glendenning | Friday, April 27th 2012, 13:21 GMT |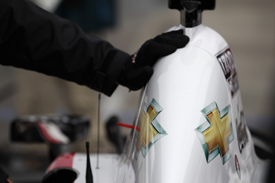 Chevrolet says that it accepts an IndyCar panel's decision to uphold the ruling to allow Honda to make a parity-based upgrade to its turbo units ahead of this weekend's race in Sao Paulo, although it admits that it is disappointed with the decision.
Chevrolet had protested the allowance made for Honda to introduce a 0.74 A/R compressor cover for its single turbo unit on the grounds that the engines had already been homologated, and that the series' regulations made no provisions for parity-based changes.
Jim Campbell, Chevrolet US Vice President, Performance Vehicles and Motorsports, said in a statement that now the panel's decision has been handed down, it is time to move on.
"Chevrolet believed the modification was contrary to the applicable series rules, and asked IndyCar to thoroughly review the issue so that the rules were applied fairly," he said.
"We respect the diligence of the panel appointed to hear the protest and examine the situation. While we are disappointed with the decision, we are prepared to continue to compete at the highest level in the IndyCar Series."