DTM tweaks format for Munich event
| | |
| --- | --- |
| | Wednesday, April 25th 2012, 11:59 GMT |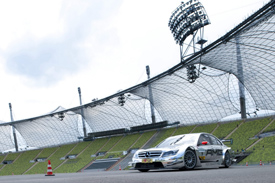 DTM will run a new relay schedule on the Saturday of its Munich spectacle in July, in addition to the existing Sunday head-to-head shootout.
The new relay format consists of a preliminary time trial, on a 614 metre loop within the Munich Olympic stadium, in order to pair drivers from the same manufacturer into teams of two.
Each driver will have their own car, with teams then pitted against each other in a knock-out format - again on the shortened circuit - which involves both drivers doing a stint in a relay format. Tyre changes and pitstops will be prohibited.
Sunday's head-to-head shootout follows a similar format to last year, with drivers going up against each other on an individual knock-out basis.
The points leader and the subsequent leaders from the Audi, BMW and Mercedes camps will be granted byes into the second round, with the other 12 drivers competing for six further slots. From the quarter finals, drivers will also have to come in for pitstops.
Series organisers have promised changes to the layout in order to reduce the chance of crashes.