Thomas Biagi tops second Imola practice
| | |
| --- | --- |
| By Andrew van Leeuwen | Saturday, April 21st 2012, 11:33 GMT |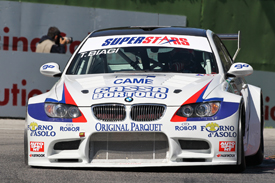 Thomas Biagi fired a pre-qualifying warning shot with a flying lap during the second free practice session for the International Superstars Series at Imola.
Biagi, a Bologna native, was quick right from the start of the session, dipping under Johan Kristoffersson's benchmark time from free practice one in the first 10 minutes of the session, and then improving to a 1m50.583s with just over eight minutes left to run.
That time was good enough to leave the Dinamic BMW driver clearly on top ahead of qualifying.
Andrea Larini traded times with Biagi throughout the session, but the Romeo Ferraris Mercedes driver eventually fell three-tenths short, settling for second. Audi Italia's Gianni Morbidelli was third fastest, replicating his result from free practice one.
Francesco Sini (Solaris Chevrolet) was fourth fastest, ahead of big name drivers Christian Fittipaldi (Swiss Team Maserati) and Tonio Liuzzi (CAAL Racing Mercedes).
Stefano Gabellini (Dinamic BMW), Max Pigoli (Ferlito Jaguar), Andrea Boffo (Roma Racing Mercedes) were next, while German Thomas Schoffler rounded out the top 10 in just his second official session behind the wheel of Audi's RS5.
Having been fastest in free practice one, Kristoffersson didn't take part in the second session, a driveline gremlin leaving his Audi RS5 stranded in the garage.

Pos Driver                 Team/Car           Time
 1.  Thomas Biagi          Dinamic BMW        1m50.583s
 2.  Andrea Larini         Romeo Mercedes     1m50.816s  + 0.233s
 3.  Gianni Morbidelli     Audi Italia        1m50.994s  + 0.411s
 4.  Francesco Sini        Solaris Chevrolet  1m51.170s  + 0.587s
 5.  Christian Fittipaldi  Swiss Maserati     1m51.229s  + 0.646s
 6.  Tonio Liuzzi          CAAL Mercedes      1m51.253s  + 0.670s
 7.  Stefano Gabellini     Dinamic BMW        1m51.580s  + 0.997s
 8.  Max Pigoli            Ferlito Jaguar     1m51.927s  + 1.344s
 9.  Andrea Boffo          Romeo Mercedes     1m52.291s  + 1.708s
10.  Thomas Schoffler      Audi Italia        1m52.478s  + 1.895s
11.  Paolo Meloni          W&D BMW            1m52.892s  + 2.309s
12.  Max Mugelli           CAAL Mercedes      1m52.954s  + 2.371s
13.  Ananda Mikola         Ferlito Jaguar     1m52.987s  + 2.404s
14.  Mauro Cesari          Swiss Maserati     1m53.291s  + 2.708s
15.  Sandro Bettini        Dinamic BMW        1m54.091s  + 3.508s
16.  Francesco Ascani      Todi BMW           1m54.585s  + 4.002s
17.  Gianni Giudici        Giudici BMW        1m55.701s  + 5.118s
18.  Marco Fumagalli       Todi BMW           1m56.530s  + 5.947s
19.  Walter Meloni         W&D BMW            1m58.303s  + 7.720s