IndyCar satisfied with DW12 safety features after Marco Andretti's aerial crash at Long Beach
| | |
| --- | --- |
| By Mark Glendenning | Wednesday, April 18th 2012, 08:33 GMT |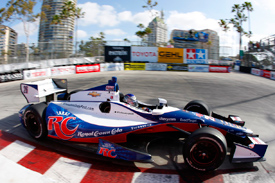 IndyCar says that the new safety features built into the DW12 chassis performed exactly as they were designed to at last weekend's race at Long Beach, despite Marco Andretti's car being launched skyward following a collision with Ganassi's Graham Rahal.
The new Dallara includes several features intended to prevent cars from going airborne, most notably the blocks behind the rear wheels. Andretti's 120.6mph crash was the first rear-end accident since the DW12 was first raced at St Petersburg last month.
IndyCar vice president of technology Will Phillips said that the shallow angle and higher closing speed of Andretti's car relative to Rahal's contributed to the nature of the accident, but that it would have been more severe had the DW12's safety measures not been in place.
"The rear wheel guard was designed to reduce wheel-to-wheel contact. It can't eliminate it," Phillips said. "In this instance, it could not prevent it, but it mitigated what could have been a worse accident.
"In several instances during the race it did exactly what it was designed to do. In one instance, it was not able to completely prevent wheel-to-wheel contact."
Rahal was placed in probation for six races for blocking and initiating avoidable contact. The probation period will end after the Iowa race in late June.