Plato says stewards were right to drop him behind Shedden in race three results
| | |
| --- | --- |
| By Kevin Turner | Monday, April 16th 2012, 17:06 GMT |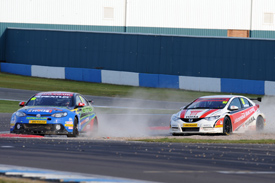 British Touring Car Championship leader Jason Plato believes it was the right decision to drop him behind Gordon Shedden after contact between the duo in the third Donington Park race yesterday.
Plato had charged through from 17th to third in his MG6 and caught Shedden's Honda, which was challenging Mat Jackson for the lead, with four laps to go.
Shedden held Plato back until the chicane on the last lap, when contact from the MG sent the Honda off and allowed Plato into second. A post-race penalty then dropped Plato back behind Shedden to third, which became second again when Jackson was excluded for a technical infringement.
"He caught me unawares - it wasn't intentional – and he had every right to take that line," said Plato.
"I tabled the idea that if the stewards thought I had gained an unfair advantage to reverse the positions and it is the right thing."
Nevertheless, he also believes Shedden braked early for the last corner. "It looked a bit unfair, but he braked 25 metres early and his driving before that was overly defensive," added Plato.